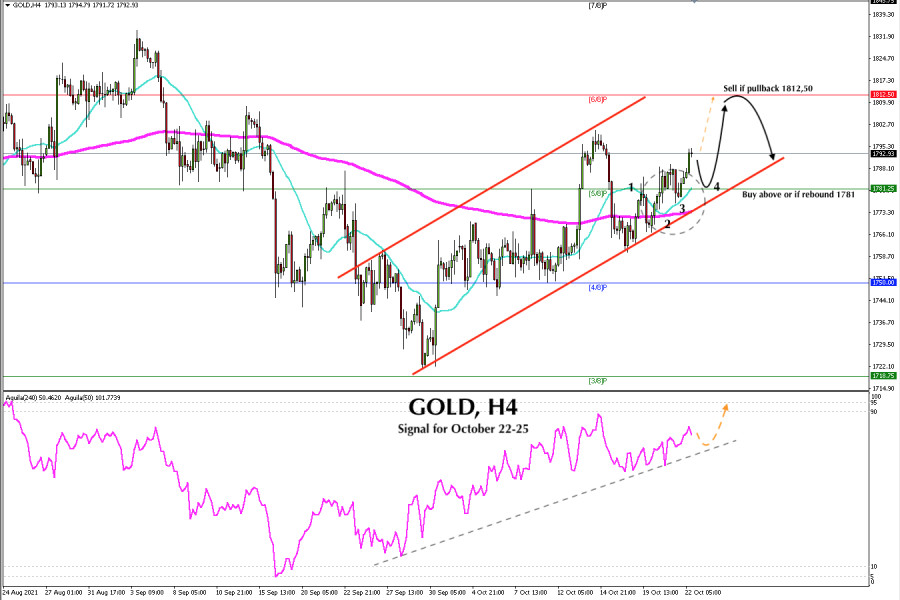 Gold is rising strongly on Friday and we expect it to continue with the upward movement. The last 4-hour candlesticks confirm that gold could reach the strong resistance of 1,812 in the next few days where it is located 6/8 of murray.
This pattern rarely occurs when the 200 EMA (2), the 21 SMA (1), 5/8 of Murray (4) and the bullish channel support (2) converge. The result is a movement according to the trend. Therefore, we expect gold to continue its upward trend until it finds a barrier at 1,812.
On the other hand, a technical bounce at the 21 SMA will be a good sign to buy as there is also 5/8 of murray. Technically, the consolidation that was generated above the 200 EMA could increase the demand for gold and it will continue its upward trend until next week.
If a pullback to 6/8 murray occurs around 1,812, it will be a good opportunity to sell but only if the bullish force is exhausted and the price consolidates below this level. Our take profit can be located at 1,800 which is a psychological level and at the bottom of the bullish channel at 1,792.
Fundamentally, inflation concerns are returning and investors are likely to see the precious metal as an opportunity to take refuge from this uncertainty, which could also give gold a bullish boost.
The Minutes of the FOMC meeting released last week reaffirmed that the US central bank is continuing with its decision to begin a cut in bond purchases. This data means that as long as it does not happen, investors are more comfortable with investing in gold than in US dollars. In the medium term, gold could reach 1,843, the 7/8 of murray, which represents a reversal zone.
Our forecast for the next few hours is to buy gold while it remains above the SMA of 21 located at 1,781, with targets at 1,800 and up to 1,812. The eagle indicator is oscillating within a bullish channel and there is potential to continue the rally until reaching the overbought zone at 95.
Support and Resistance Levels for October 22 - 25, 2021
Resistance (3) 1,812
Resistance (2) 1,802
Resistance (1) 1,795
----------------------------
Support (1) 1,782
Support (2) 1,776
Support (3) 1,770
***********************************************************
A trading tip for GOLD for October 22 - 25, 2021
Buy above 1,781 (SMA 21) with take profit at 1,800 and 1,812 (6/8) and stop loss below 1,775.
Sell if there is a pullback at 1,812 with take profit at 1,800 and 1,792 (bullish channel) and stop loss above 1,817.
The material has been provided by InstaForex Company -
www.instaforex.com