After updating its all-time high, Bitcoin failed to hold above $67,000 per coin. The approval of the Bitcoin ETF, the flight of investors from inflation, and the outflow of funds from gold funds were strong drivers for growth. However, a very alarming picture is emerging on the daily chart.
Bearish Engulfing and Head and Shoulders Reversal Pattern
The most alarming moment was Thursday's daily candle. It not only closed bearish but a buyback also took place - a bearish engulfing pattern formed on the chart. And this is a signal for a reversal. Although sometimes it shows only a local change in direction.
What does this mean and how can events develop further? To understand this, it is worth paying attention to two factors:
The breakdown of the level of 62,637.96. Yes, the daily candle is not closed yet, although it changes its direction from timid bullish to bearish before our eyes. If BTCUSD closes below this level, it could fall to the $60,000 per coin area; and
A potential rebound from $60,000. If this happens, it is possible that a second shoulder of the head and shoulders reversal pattern may form. So far, it is only being outlined and it cannot be argued that it will form and work itself out. But if this happens, then the neckline near $60,000 for one bitcoin may be broken.
These are only assumptions so far, but if events develop according to this scenario, the main cryptocurrency may fall to $55,000 (the potential for working out the head and shoulders pattern) or even to the $52,000 area.
Locally, you need to monitor the behavior of BTCUSD around the level of 62,637.96, and in case of its breakdown - the mark of $60,000 per coin. I will not push ahead of time, maybe these supports will also keep the price down. But the scenario described above is worth keeping in mind just in case.
Why sell bitcoin?
There are most likely two reasons here, which, if you think about it, are related.
The first is selling on facts. It has been discussed more than once and it is possible that it may now take place. After all, Bitcoin grew on expectations of ETF approval. And now, when the first one is launched, the second one started trading Friday, and the third one is expected next week, there could have been regular sales.
The second is profit taking on purchases among speculators. The consequence of the sale on the facts. The only question now is how long this profit will be fixed. However, the targets were described above.
Valkyrie: the second to launch Bitcoin ETF
Bitcoin and crypto financial services firm Valkyrie Funds is the second firm to launch a major cryptocurrency futures ETF in the United States.
Valkyrie's Bitcoin ETF started trading on the Nasdaq fund Friday with the ticker BTF. The ETF will track the value of the Chicago Mercantile Exchange (CME) bitcoin futures.
During a Friday morning interview with CoinDesk, Leah Wald, CEO of Valkyrie Investments commented on what sets their foundation apart from ProShares, which launched on October 9th. She equated her bitcoin and crypto fund with "subject matter expertise" and ProShares with "a monolith that cares more about launching their next fund."
Well, another ETF from VanEck is next in line, which is likely to start trading in the US on Monday. By this time, we will probably get more clarity about whether Bitcoin will go for a deeper correction.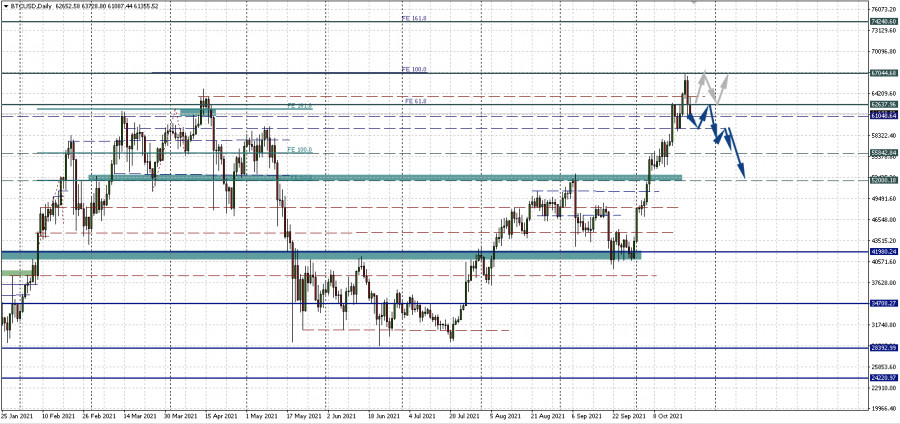 The material has been provided by InstaForex Company -
www.instaforex.com