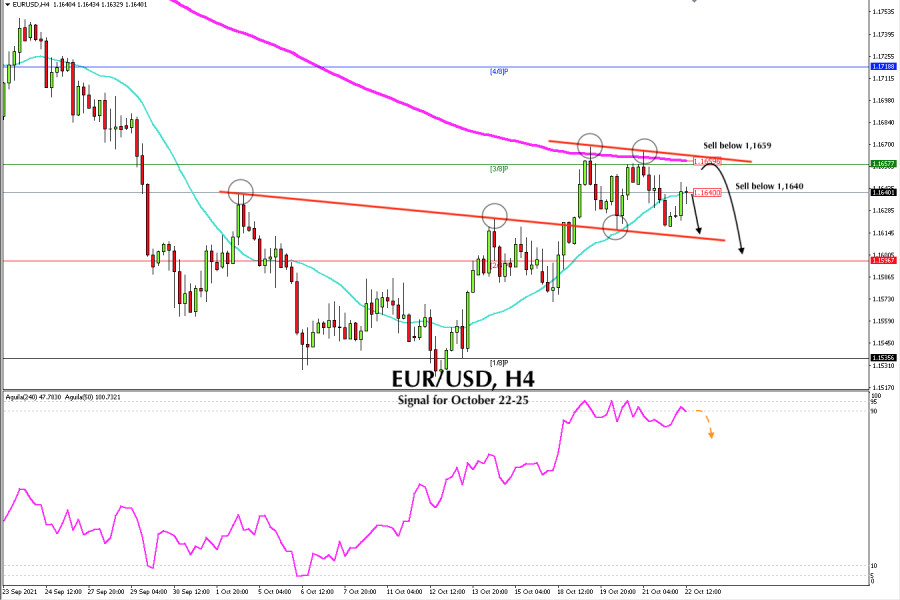 According to the 4-hour chart, we can see that EUR/USD continues to trade within a range with a top at the 200 EMA and a bottom at the support of the highs of October 04 and 14, which has become its support for now. It is expected that in the next few days this movement will continue as the eagle indicator is showing an overbought signal.
The 200 EMA located at 1.1659 has now become a strong barrier for the Euro and could continue to press down. Therefore, a pullback towards this resistance zone may give us an opportunity to sell with targets in the support of bearish channel at 1.1614, and could fall to 2/8 murray around 1.1596.
Additionally, the 21 SMA is also putting downward pressure on the Euro since it is now trading around it. If the Euro trades below 1.1640, it is likely to fall to the support of the bearish channel at 1.1610.
A sharp breakout and a consolidation above 1.1660 (200 EMA) and 3/8 of murray (1.1657) could be the start of a bullish scenario, and the Euro could rise to the pivot point of 4/8 murray located at 1.1718.
We believe that before any upward movement, the Euro should make a correction, since the eagle indicator is showing an overbought signal. After this condition is alleviated, we could buy again at the support of 1.1596 with targets at 1.1660 and 1.1718.
Fear continues to grow in the market amid accelerated inflation and growing speculations that the high level of consumer prices could stretch more than previously estimated. If this trend continues, the Euro could gain strength and will be able to rise in the medium term to the daily EMA 200 located at 1.1980.
Our forecast in the short term is to sell below the EMA of 200 and below the SMA of 21. As long as the Euro oscillates within these limits (1.1660 - 1.1615), we can buy and sell.
Support and Resistance Levels for October 22 - 25, 2021
Resistance (3) 1.1698
Resistance (2) 1.1682
Resistance (1) 1.1651
----------------------------
Support (1) 1.1603
Support (2) 1.1581
Support (3) 1.1555
***********************************************************
A trading tip for EUR/USD for October 22 - 25, 2021
Sell below 1.1640 (SMA 21) or in case of a pullback at 1.1660, with take profit at 1.1615 and 1.1596 (2/8) and stop loss above 1.1690.
The material has been provided by InstaForex Company -
www.instaforex.com