Bitcoin is again testing the resistance level of the 59,283.67 - 62,637.96 range for strength, while not showing any signs of clarity about the future direction. But since there is nothing left before the all-time high, let's hope that the main cryptocurrency will break through it.
Nevertheless, hope is an unprofessional quality, so no trading decisions can be made based on it. This is a pure lottery and the way to drain the account. There is also professional intuition, but it is not recommended to use it in trading without confirmation from technical analysis.
Therefore, we will look for some signals from the market that will allow us to understand where the main cryptocurrency will move next.
What will open interest on bitcoin derivatives say?
Today I propose to look at the bitcoin futures market. The cryptocurrency derivatives market as a whole gained momentum during October. Today, open interest is peaking in 2021.
During most of the recovery period in July-August, there was little activity in the derivatives market. The data now shows that open interest in BTC options has grown by 107% in October 2021. The last time it was so high was before the May collapse.
It's worth noting, however, that derivatives markets tend to rise in both bullish and bearish markets, so the rise in open interest can be seen as a double-edged sword.
However, the fact that all calls (option to buy) with a strike price above $100K are the preferred contract option indicates that traders are rather optimistic.
What's the problem with high open interest?
Bitcoin perpetual contracts reached their maximum open interest in 6 months, exceeding $18 billion in outstanding contract value, according to IntoTheBlock analytics data. This value was last tested on April 14, 2021.
But there is one problem with this scenario: it indicates an over-leveraged market. And over-leveraged trades tend to close when short-term price fluctuations occur, resulting in cascading liquidations of both longs and shorts.
In addition, the IntoTheBlock review also mentioned that the funding rate on Binance and FTX hit the level on September 5, when the market last experienced a price crash.
So what about bitcoin: will it crash or finally rise?
The data now suggests that the weighted average attitude towards Bitcoin is still neutral. However, this can also be perceived in a positive way. A break above the historic level of $64,000 could open floodgates for aggressive capital inflows. In addition, the approval of bitcoin futures ETFs will be a significant catalyst for this.
To summarize, it is possible that we are on the verge of a strong bullish breakout. But there are also risks (threats) - this is the excessive use of borrowed funds in futures trading. Remember the collapse that happened in May. The fall was largely caused by a cascade of leveraged takeaways on the margin call.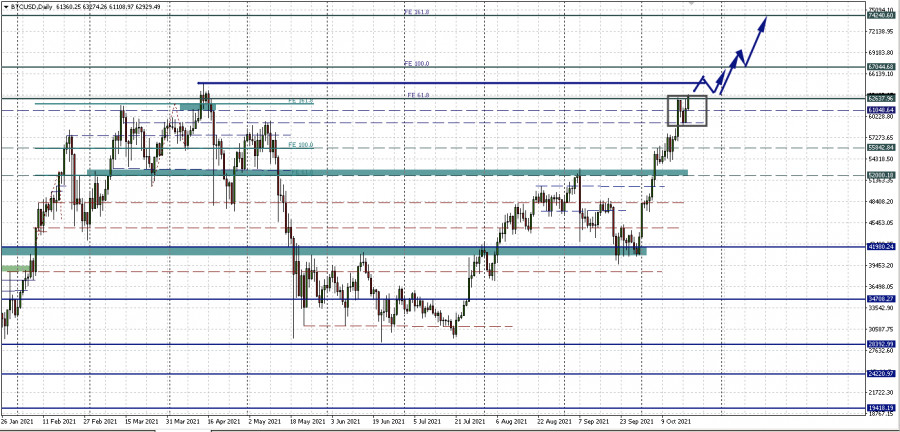 The material has been provided by InstaForex Company -
www.instaforex.com