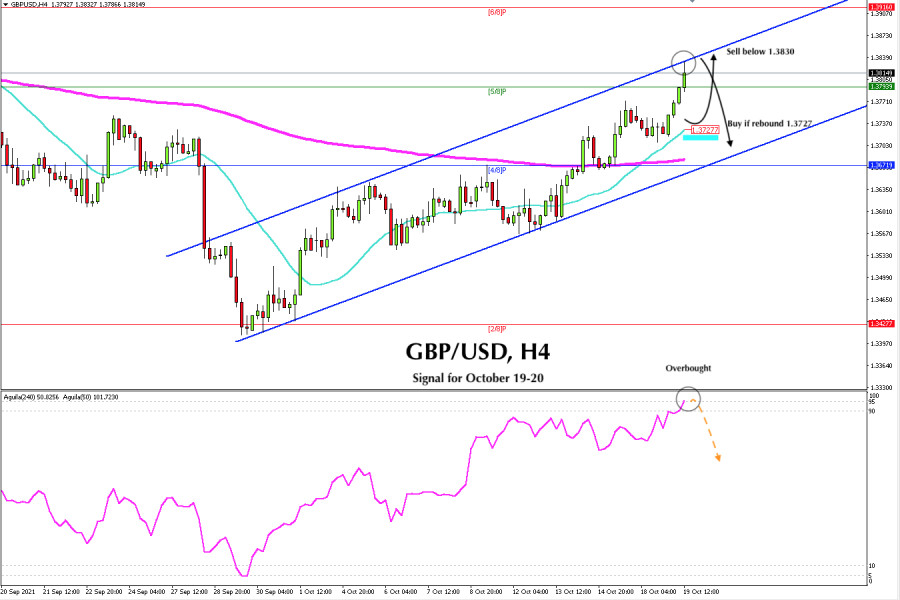 Strong downward pressure on the US dollar has allowed the British pound to rise to the top of the bullish channel at 1.3830. The eagle indicator has reached 95 points which represents an imminent downward correction in the next few hours. A technical correction is expected towards the zone of 21 SMA located at 1.3727.
The US dollar index (#USDX) is currently trading at the level of September 28 near 93.55 where the EMA of 200 is located. If the weakness of the US dollar continues and it manages to consolidate below this moving average, it could give a strong bullish momentum to the British pound and may push the pair towards the strong resistance of 6/8 murray at 1.3916.
GBP/USD continues to oscillate within the uptrend channel formed on the 4-hour charts. This channel comes from September 28 when it found a strong bottom at 1.3411. Since then it has risen by more than 400 pips, so we believe that there could be a significant correction in the coming days.
On the other hand, if the upward force continues we should expect a consolidation above 1.3830. Then, the next target can be located at 1.3916 (6/8). This level serves as strong resistance and could exert strong pressure on the pair.
The short-term outlook for GBP/USD is bullish as long as it remains above the 200 EMA (1.3671). Any correction towards this area will be a good opportunity to buy. Given that it is showing an overbought signal, we should expect a correction towards the 1.3727 support which will be a good point to buy with the targets at 1.3793 and up to 1.3916.
Our forecast for the next few hours is to sell below 1.3730. The eagle indicator supports our perspective as it has touched the 95 level. Our take profit can be placed at 1.3727 or we can wait until the price reaches the bottom of the bullish channel around 1.3680.
Support and Resistance Levels for October 19 - 20, 2021
Resistance (3) 1.3916
Resistance (2) 1.3897
Resistance (1) 1.3818
----------------------------
Support (1) 1.3787
Support (2) 1.3754
Support (3) 1.3698
***********************************************************
A trading tip for GBP/USD for October 19 - 20, 2021
Sell below 1.3830, with take profit at 1.3727 (SMA 21) and 1.3680 and stop loss above 1.3870.
The material has been provided by InstaForex Company -
www.instaforex.com