4-hour timeframe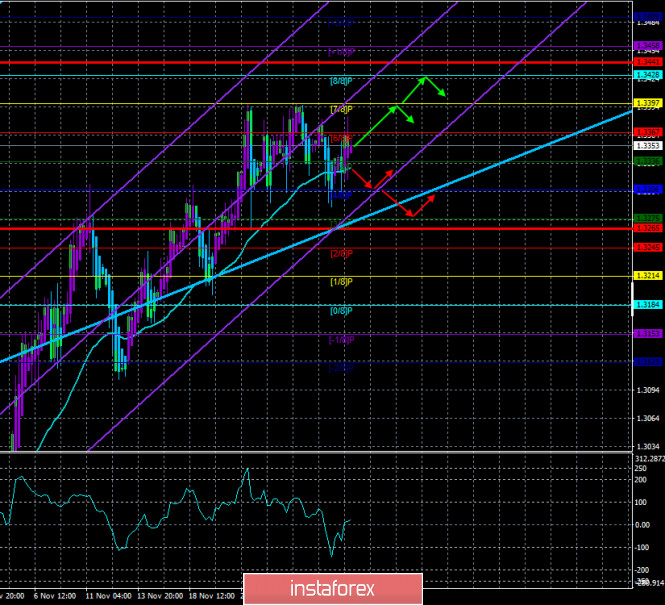 Technical details:
Higher linear regression channel: direction - upward.
Lower linear regression channel: direction - upward.
Moving average (20; smoothed) - sideways.
CCI: 20.5279
At the beginning of the new trading week, the British pound continued to trade near its annual highs, without even trying to start at least a downward correction. We still wonder what makes market participants buy the pound while UK businesses are almost on their knees asking Boris Johnson to conclude a trade deal with the EU. That is, business, the Bank of England, and many experts understand that without a trade deal, the British economy will suffer a blow that will be stronger than the damage from the entire "coronavirus" epidemic. In fact, this was directly stated by the Chairman of the Bank of England, Andrew Bailey. But David Frost and Boris Johnson continue to play games and say that Britain is ready to leave the EU without a deal, and not particularly zealous to try to negotiate with Brussels. Thus, it is not known why traders believe in concluding an agreement at all. Although it should be noted that any market is driven primarily by major players. That is, we can assume a situation in which large traders have some insider information about the real progress in negotiations and therefore have reasons and grounds to invest in the pound. Although, as the latest COT reports show, there is really nothing like this. We can also assume that the pound and the dollar are getting cheaper synchronously, but the US dollar is doing it faster. Then the rise in the price of the pound against the dollar can still be explained somehow. However, if you take other currencies other than the euro and the pound, it becomes clear that the US dollar is not particularly cheap against them.
What's the latest news? The head of the Ministry of Foreign Affairs Dominic Raab said that the current week will be the last, "when there may be some delays". What does this mean? This week the parties can still afford to drink tea, and next week the negotiations will continue without tea? When will negotiations end? How long will they last? What is progress? Is there any progress at all? None of these questions are answered by Raab, Barnier, Johnson, or Frost. "The negotiations are reduced to the last two issues and a deal is possible if the EU shows some pragmatism," Raab said. What kind of questions? A couple of days ago, there were at least three questions. Did you manage to solve one? Which one? These questions also remain unanswered.
Although certain details still became known. Of course, they relate to the "fish question". The European Union, according to unconfirmed official information, offered to return from 15 to 18% of all fish caught in the UK. This proposal was rejected. British Environment Minister George Eustice said that London requires an annual review of the agreement on fishing, based on a scientific methodology for determining the location of resources (fish), which is called zonal linking. According to Eustice, a fish is not a stone that lies where it is placed. Fish move and today there is a lot of it in one place, and tomorrow in another. "According to recent research, we currently have access to only half of all fish stocks in our own waters, which is fundamentally unfair to our fishermen, and we have made it clear that this needs to change," Eustice said. Thus, as we can see, the differences remain extremely serious. However, the same Dominic Raab stated the following: "There is progress in the fact that our position has started to be understood by our European colleagues. As for fishing quotas, the following is fundamental: we are independent, so control over our territorial waters should be completely in our hands."
Meanwhile, the European Union is very skeptical about any further negotiations. It is reported that many officials consider it impractical to continue further negotiations, since the European Parliament is already 99% likely not to have time to ratify this agreement before December 31, 2020. Michel Barnier told the European Parliament that the talks could continue for another 3-4 days. However, he said this on Friday, so according to Barnier, the negotiations should end today. However, many media outlets believe that Brussels will not end the negotiations in any case. To end the negotiations is to show the world that you are responsible for their failure. And neither London nor Brussels wants this. It is also reported from European sources that on the "fish issue", London offers Brussels to return up to 80% of fish and seafood that will be caught in British waters. It is also reported that London cannot agree on compliance with European standards, since in this case, the British-European agreement will have to introduce European legal concepts. In addition, the European Union insists on the point that if one party raises the standards, the second will also be obliged to raise them. In general, London continues to reject any points that can be interpreted as an attempt by Brussels to interfere in the UK legislation.
Based on all of the above, you can judge for yourself how realistic is the deal. If the parties had at least a couple more months at their disposal, then we could really say that the probability of reaching an agreement is high. In the current circumstances, when both parliaments are unlikely to have time to review and ratify the agreement, even if it is concluded right now, we are inclined to believe that the negotiations will fail or be extended indefinitely. We have repeatedly stated that the option that London and Brussels will start trading under WTO rules in 2021, and then agree, is better than if they do not agree at all and will always trade under WTO rules.
From a technical point of view, the pound sterling continues to trade above the moving average line, although yesterday it was fixed below it. Thus, what we wrote about in the previous fundamental review happened: the pair again briefly went below the moving average, only confusing traders.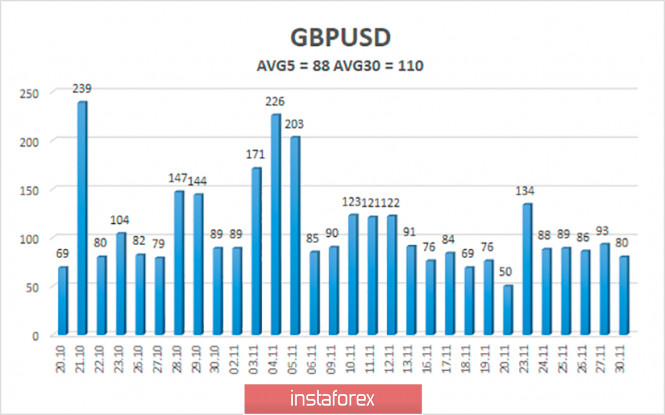 The average volatility of the GBP/USD pair is currently 88 points per day. For the pound/dollar pair, this value is "average". On Tuesday, December 1, therefore, we expect movement inside the channel, limited by the levels of 1.3265 and 1.3441. A reversal of the Heiken Ashi indicator downwards signals a new round of correction or downward movement.
Nearest support levels:
S1 – 1.3336
S2 – 1.3306
S3 – 1.3275
Nearest resistance levels:
R1 – 1.3367
R2 – 1.3397
R3 – 1.3428
Trading recommendations:
The GBP/USD pair started a new round of upward movement on the 4-hour timeframe. Thus, today it is recommended to stay in long positions with targets of 1.3397 and 1.3428 until the new reversal of the Heiken Ashi indicator down. It is recommended to trade the pair down again with targets of 1.3306 and 1.3275 if the price is fixed back below the moving average line. Now there are signs of a flat, so it should also be taken into account that it is difficult for the pair to exit the channel of 1.3306-1.3397.
The material has been provided by InstaForex Company -
www.instaforex.com