EUR/USD
Analysis:
Since March this year, the exchange rate of the European currency is directed to the north of the chart. The last section of the main course started on November 4. The price reached the intermediate resistance zone, from which the need for a pullback is mature.
Forecast:
Today, we expect a mostly downward course of movement in the sideways price corridor between the opposite zones. After trying to put pressure on the resistance, then you should wait for a change of course and a decline in the support area.
Potential reversal zones
Resistance:
- 1.1970/1.2000
Support:
- 1.1900/1.1870
Recommendations:
Trading on the euro market today can be unprofitable. The best tactic is to refrain from transactions while the rollback is forming. It is recommended to look for long position entry signals at its end.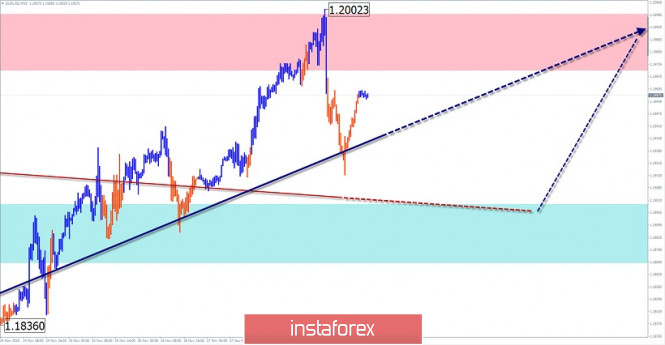 AUD / USD
Analysis:
In the last six months, the Australian dollar market has been experiencing an upward trend. Its last section counts down from September 25. The structure of this wave looks complete at the time of analysis. The price has reached the borders of the potential reversal zone of a large-scale TF. Since last week, the pair's market has been developing a downward pullback.
Forecast:
On the current day, the downward movement vector is expected to end, the formation of a reversal and the beginning of a price rise. The price movement is likely to be mostly flat. If the exchange rate changes, a short-term puncture of the lower support border is not excluded.
Potential reversal zones
Resistance:
- 0.7390/0.7420
Support:
- 0.7320/0.7290
Recommendations:
Trading on the market of this pair today may be unprofitable and is not recommended. In the area of settlement support, it is suggested to track buy signals.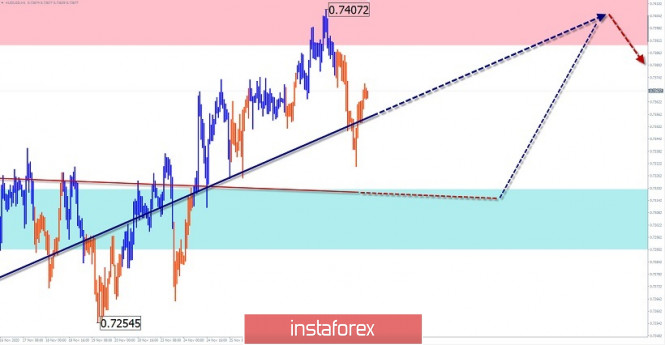 Explanation: In the simplified wave analysis (UVA), waves consist of 3 parts (A-B-C). The last incomplete wave is analyzed. The solid background of the arrows shows the formed structure, and the dotted one shows the expected movements.
Note: The wave algorithm does not take into account the duration of the instrument's movements in time!
The material has been provided by InstaForex Company -
www.instaforex.com