4-hour timeframe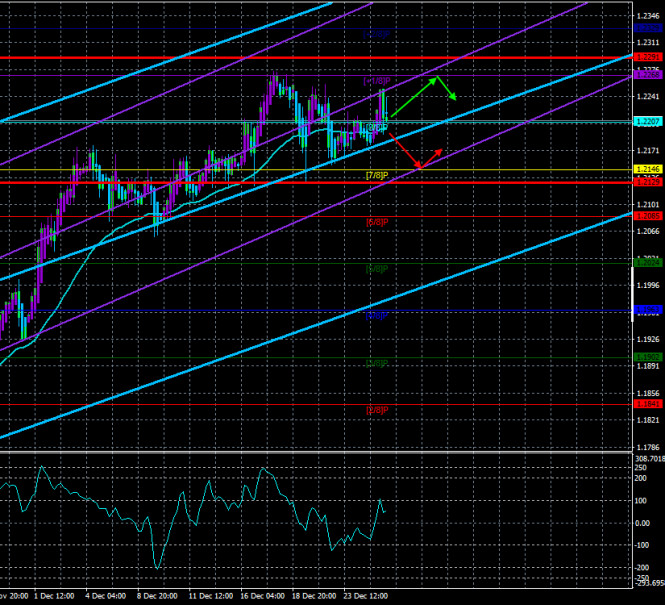 Technical details:
Higher linear regression channel: direction - upward.
Lower linear regression channel: direction - upward.
Moving average (20; smoothed) - sideways.
CCI: 46.6659
The EUR/USD currency pair was trading very actively on Monday, although it cannot be said that the volatility was high. On this day, there were no important news and macroeconomic publications in the world, as for the second week in a row, the markets are in holiday mode. Last week the world was preparing for a Catholic Christmas, this week it is preparing for the New Year. Thus, the calendar of macroeconomic events is empty, and the authorities of many countries of the world are already going on vacation. This, of course, does not mean that the pair's quotes will now stand in one place and will not move. By and large, the pair can move on New Year's week as you like. There may be minimal volatility, flat, and quite volatile "swings". The market can be "thin", where the action of any major player can lead to a serious change in the pair's exchange rate. Thus, first of all, caution is required from traders during New Year's week.
From the news, oddly enough, there is even something to pay attention to. Late on Monday, Donald Trump signed a package of measures to stimulate the US economy, which is included in the general budget for 2021. If Donald did not take this step, then on December 29, a new "shutdown" would have begun in the United States. Far from being the most embarrassing event under President Trump. "Shutdowns" under Trump have already happened and it was under him that the longest break in the work of public services was recorded due to lack of funding. 35 days. From our point of view, the "shutdowns" are yet another proof of Trump's incompetence as president. In essence, a "shutdown" is an inability to agree on a budget for the next year. Democrats and Republicans can't agree among themselves, so at some point, the budget remains unsigned and uncoordinated, and funding for public services stops. It is precisely because Trump does not know how to negotiate with anyone, especially with the Democrats, that such things happen. And any "shutdown" is damage to the economy. The last "shutdown" in 2019 caused $ 11 billion in damage to the American economy. However, this time it did not come to a new "shutdown". At the last moment, Trump put his signature and saved himself from an even greater drop in political ratings. If Trump is going to run for president in 2024, then he needs to think not only about how to annoy Joe Biden but also about not losing the remnants of his popularity over the next 4 years. Trump is not the only member of the Republican Party and in 4 years he will be 78 years old. Yes, Biden is now the same age. But that does not mean that Republicans will want to nominate Trump again from their party.
In general, Trump signed the budget, so Americans will now receive 600 "coronavirus" dollars, and the American unemployed - "coronavirus allowances" for $ 300 a week. Earlier, Trump called such figures of assistance to Americans "shameful", but in the end, still signed the bill. According to media reports, Trump changed his decision after a conversation with 11 senators, who asked the president to either veto the 2021 budget or sign it. Trump agreed to sign it but still expects that payments to the American population will be increased in a new, separate bill. Already on Monday, the US Congress will vote on a separate package of stimulus measures, which involves increasing one-time payments to $ 2,000 per person (now $ 600).
The US currency did not react very strongly to this event. Quotes of the euro/dollar pair continue to trade around 2.5-year highs, so now it is even impossible to conclude a correction. It seems that at any moment the pair can resume the upward movement and easily update the current highs. It was not possible to do this on Monday, however, it may be possible on Tuesday. For the US dollar, it is now difficult to think of anything else bad. The dollar is already down 13 cents in 2020. It seems to be not too much, but we still return to the question of the reasons for this decline. One can assume that what we have seen in the last 9 months is a banal correction within the framework of a long-term downward trend that began back in 2008. It was then that the prolonged fall of the European currency began from the level of $ 1.60. Thus, 13 cents up is not so much in the context of years and decades. However, from our point of view, the currency can not become more expensive by 10-15 cents simply for technical reasons. The euro/dollar pair is not prone to such "bubbles" as oil, for example. Therefore, we continue to expect the formation of a new downward trend. However, we also remind you that any fundamental hypothesis must be confirmed by technical signals. Until a downward trend is technically formed, it is not recommended to trade down.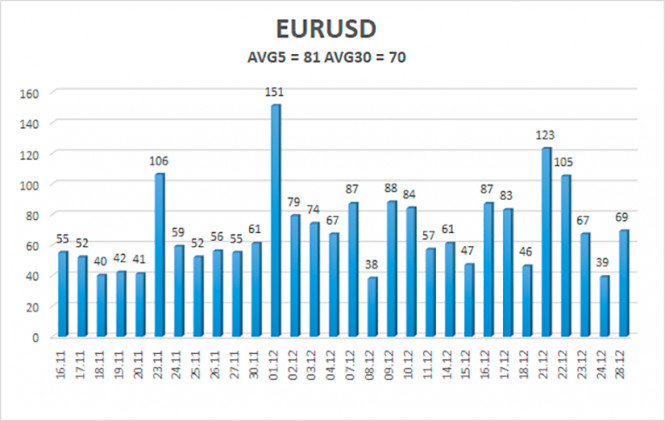 The volatility of the euro/dollar currency pair as of December 28 is 81 points and is characterized as "average". Thus, we expect the pair to move today between the levels of 1.2129 and 1.2291. The reversal of the Heiken Ashi indicator to the top signals a new round of upward movement.
Nearest support levels:
S1 – 1.2207
S2 – 1.2146
S3 – 1.2085
Nearest resistance levels:
R1 – 1.2268
R2 – 1.2329
Trading recommendations:
The EUR/USD pair has started a new round of upward movement. Thus, today it is recommended to open new long positions with a target of 1.2268 if the price bounces off the moving average. It is recommended to consider sell orders if the pair is again fixed below the moving average with a target of 1.2146. Now the pair shows signs of flat and "swing".
The material has been provided by InstaForex Company -
www.instaforex.com