Crypto Industry News:
Facial recognition can help prevent Bitcoin scams such as those that took place on Twitter and YouTube, said Rod Hsu, president and co-founder of the Coincurve virtual currency platform.
Hsu said Bitcoin is an electronic form of currency that is irreversible and somewhat anonymous, "coupled with this vulnerability makes it attractive to fraudsters." Due to the negative publicity the cryptocurrency has gained from the scams, it may have deterred many from adopting it.
"Therefore, people may see fraud and Bitcoin as synonyms. In the case of traditional payment methods or Bitcoin, it is the individual who needs to understand the situation and determine its legitimacy. We hope that thanks to greater public awareness of these programs and education about Bitcoin, we'll be able to separate these negative associations. "
Hsu believes that facial recognition is one possible way to eliminate Bitcoin scams as it is much more difficult to implement. He adds that such a system is based on biometrics, which is "much more advanced than a simple photo":
"We have seen a simplified version of facial recognition where the consumer not only provides his identification but also performs a live inspection that covers different angles of the person's profile. This creates additional difficulties if someone tries to use someone else's payment instrument."
Hsu added that facial recognition is a good tool to re-authenticate a person after initial verification, "balancing the goal of better user experience while minimizing fraud."
However, Coincurve co-founder cautions systems like facial recognition should have ethics in mind when verifying:
"I think the ethics of facial recognition comes down to consent and security. Consent requires that the user must know and control how the data is stored, shared, used and accessed, and must be able to remove it at any time. In terms of security, this is about how data is stored and how security protocols are implemented. These requirements may also vary according to the age of the user. "
Services must take these considerations into account when using new technologies such as facial recognition, as implementation will affect many layers of the service, from "user experience to system architecture and security."
Technical Market Outlook:
The BTC/USD pair has bounced from the level of $11,400 after big Pin Bar candlestick pattern was made. The momentum has increased and is back in positive territory, so the bulls are still in charge of the market, but no new high was made yet. In a case of a breakout above the level of $12,035, the next target for bulls is seen at the level of $12,269. The key short-term support is still located at the level of $10,940 - $10,890. The weekly time frame trend is still up.
Weekly Pivot Points:
WR3 - $12,981
WR2 - $12,405
WR1 - $12,075
Weekly Pivot - $11,487
WS1 - $11,099
WS2 - $10,537
WS3 - $10,124
Trading Recommendations:
Due to the level of $12,000 violation, the Bitcoin is now in the up trend on the long-term time frame. The next key target for bulls is seen at the level of $13,712 and $15,000. The key long-term technical support is located at the level of $7,897, but the zone around $9,500 - $10,500 is an important technical support as well.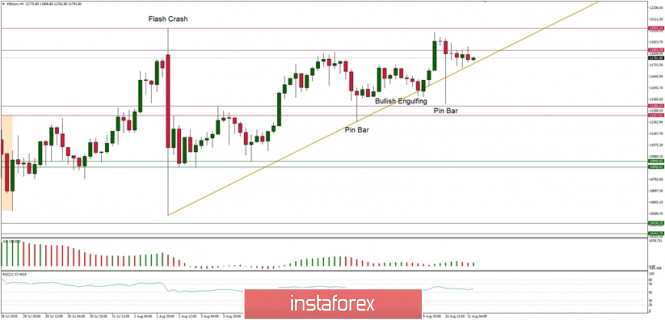 The material has been provided by InstaForex Company -
www.instaforex.com