GBP/USD - 4H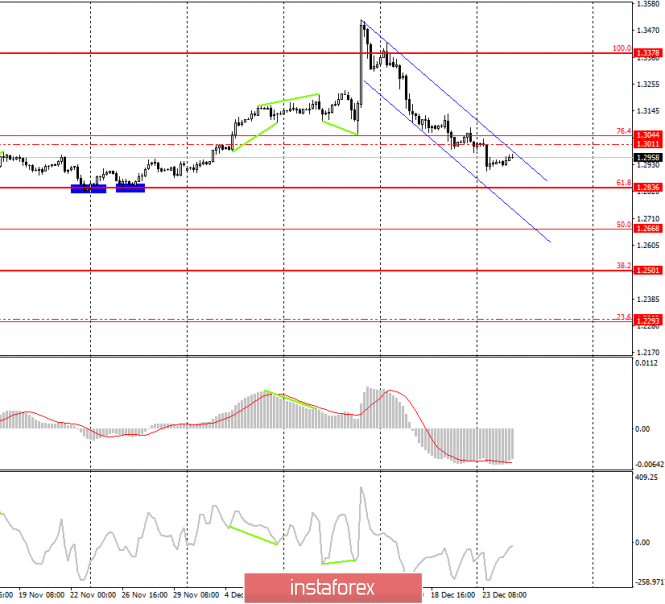 On December 25, the GBP/USD pair started moving to the upper boundary of the trend descending band, but trading ended very quickly and now quotes will not move until tomorrow morning. I would like to say that, depending on what the background will be tomorrow or the day after tomorrow, the pair will show the direction of movement, but no news is expected this week, just like economic reports. Most parliaments, congresses and top officials go on the same Christmas holidays as ordinary citizens. Thus, there is no information background.
As with the euro-dollar pair, I believe that you can try to work out another deal in 2019. In recent days, a new band has formed, inside which the price continues to move clearly even without working out its upper and lower boundaries. Thus, traders can count on the resumption of the fall, since the pair does not respond to a zero information background. I believe that until December 31, quotes may continue the process of falling in the direction of the correction level of 61.8% - 1.2836, which potentially means receiving 120 points of profit if sold from the upper boundary of the band. I recommend placing Stop Loss orders outside the downward band.
GBP/USD forecast and recommendations for traders:
The pound-dollar pair is trying to continue the process of falling and only in the event of a rebound from the correction level of 61.8% would it be able to take a break for a while and slightly roll back up. However, I do not expect a strong upward pullback, and the current location of the price relative to the level of 76.4% allows you to sell the pair while aiming for 1.2836. I do not recommend that you buy the pound in the near future anyway.
The Fibo grid was built at the extremes of March 13, 2019 and September 3, 2019.
The material has been provided by InstaForex Company -
www.instaforex.com