To open long positions on EURUSD you need:
Low volatility in the pair persists after the Christmas holidays and nothing has changed from a technical point of view. The whole emphasis remains at the level of 1.1095, however, breaking through this range will be very problematic, since the release of important fundamental statistics is not planned today in the morning. Only consolidating on this range will lead to a larger upward correction of EUR/USD to the area of a high of 1.1129 and 1.1172, where I recommend taking profits. In the event of maintaining pressure on EUR/USD, it is best to return to long positions only on the support test of 1.1069, subject to the formation of a false breakout, or to rebound from a larger low of 1.1041.
To open short positions on EURUSD you need:
Sellers will continue to defend the resistance of 1.1095, and the formation of a false breakout there will be a direct signal to open short positions in a continuation of the downward trend in order to update the lows of 1.1069 and 1.1041, where I recommend taking profits there. In case there is no pressure on the euro around 1.1095, it is best to postpone selling until the high of 1.1129 is updated. I also recommend selling immediately on the rebound in the resistance area of 1.1172, a test of which will indicate the formation of a new upward trend in the euro.
Signals of indicators:
Moving averages
Trade is conducted in the region of 30 and 50 moving averages, which indicates market uncertainty.
Bollinger bands
Volatility is low, which does not provide signals on entering the market.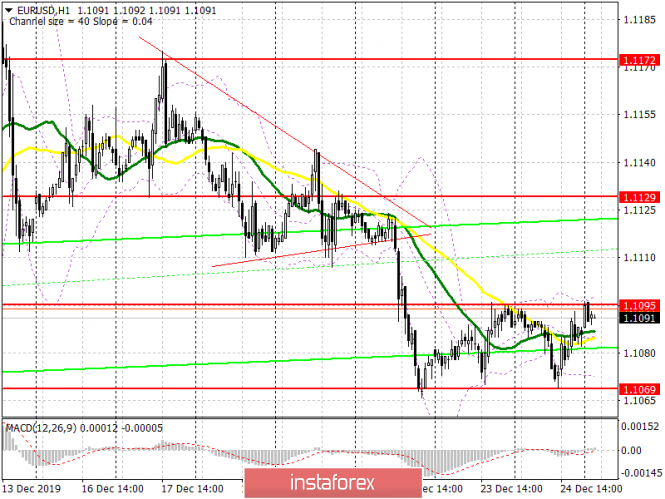 Description of indicators
Moving average (moving average determines the current trend by smoothing out volatility and noise). Period 50. The graph is marked in yellow.
Moving average (moving average determines the current trend by smoothing out volatility and noise). Period 30. The graph is marked in green.
MACD indicator (Moving Average Convergence / Divergence - moving average convergence / divergence) Fast EMA period 12. Slow EMA period 26. SMA period 9
Bollinger Bands (Bollinger Bands). Period 20
The material has been provided by InstaForex Company -
www.instaforex.com