Crypto Industry News:
One-third of Ethereum is owned by just 376 whales, according to new research.
Startup Blockchain Chainalysis has published a study showing that while 376 people control 33% of the circulating supply in 2019, this figure is actually lower than in 2016 and 2017. The study also showed that whales do not have a "significant" impact on the price of ETH, however, they increase intraday volatility on the cryptocurrency market when they make large sales.
Chainalysis defines whales as the 500 largest owners of cryptocurrencies, excluding services that hold their shares outside the stock markets. It turned out that ether whales now constitute only 7 percent of all transactions.
The survey also found that the majority (about 60 percent) of these whales are not active traders, which means they keep their assets and do not regularly trade on cryptocurrencies. This means that they consistently maintain 25-40 percent of the circulating ETH supply and account for 5-18 percent of the transaction volume, Chainalysis says.
In addition, using the vector-based autoregression (VAR) model, widely used in the analysis of financial time series, Chainalysis discovered that Ethereum prices are tracking the price of Bitcoin. This means that an average 1% increase in BTC prices yesterday leads to a 1.1% increase in ETH prices today. However, the study did not show a "statistically significant" impact of Bitcoin prices on the Ethereum intra-day variation.
The study also analyzed the impact of whales sending and receiving funds on and from the stock exchange using the VAR model. It was found that the money sent affected the volatility, but not the price, whereas the funds received have no effect either on prices or on the volatility during the day.
Technical Market Overview:
The ETH/USD pair has topped at the level of $278.14, but this was only the top for the wave (3) of the overall impulsive structure, so there is still wave (4) and wave (5) to be made. The market went down in the attempt to start the corrective cycle and the current low was made at the level of $260.13. The nearest technical support is seen at the level of $212.12 and it might be hit as the wave (4) will unfold.
Weekly Pivot Points:
WR3 - $255.44
WR2 - $227.68
WR1 - $210.10
Weekly Pivot - $184.14
WS1 - $165.18
WS2 - $137.00
WS3 - $119.84
Trading Recommendations:
The market has made the wave (3) and entered the corrective cycle, so the best trading strategy is to buy the correction lows in anticipation of the wave (5) to unfold in the future. Any violation of the technical support at the level of $190.95 will invalidate the bullish impulsive scenario.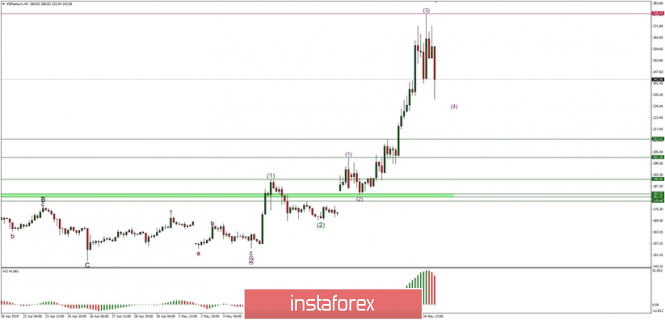 The material has been provided by InstaForex Company -
www.instaforex.com