Crypto Industry News:
Citizens of South Korea buy cryptocurrencies in the largest amounts ever recorded and spend more money fiat to do so, according to the local newspaper.
Referring to the results of a non-profit survey carried out in December 2018 by the Korean Foundation for the Protection of Financial Investors, Arirang revealed that 7.4% of the 2,500 adults surveyed claimed to have purchased cryptocurrencies.
This number increased by 1% compared to the previous year, despite the fact that the industry was struggling with local obstacles in the form of changing regulations and burglaries on the stock exchanges. Not only the number of buyers has changed: many of those who currently have crypto, many bought more than before.
Compared to 2017, the average investment per capita has increased by 64% to over $ 6,000. According to the survey, the most often buyers of cryptographers were older investors - 50-year-olds, and then 30-40-year-olds. The rise of Bitcoin prices to $ 5,300 at the beginning of April caused a re-emergence of the upward trend characteristic of the South Korean market.
Technical Market Overview:
The ETH/USD pair has hit the 61% Fibonacci retracement and broke through it after a short consolidation. The up move has hit the technical resistance at the level of 171.01 with a local top made at the level of 172.00. Since then the market has been consolidating and a local pull-back was made to the level of 167.89, but no new low has been made yet. The key technical support for bulls is seen at the level of 165.46, just below the 61% Fibonacci retracement. Any violation of this level would mean the three waves up move has been made.
Weekly Pivots:
WR3 - 204.74
WR2 - 190.50
WR1 - 176.25
Weekly Pivot: 160.51
WS1 - 146.54
WS2 - 132.16
WS3 - 116.96
Trading recommendations:
The previous sell setup has been invalidated as the price has broken through the 61% Fibonacci retracement and did not look back since then yet. Anyway, there is no good setup to trade this pair right now, so all traders should stay aside and wait for better trading conditions.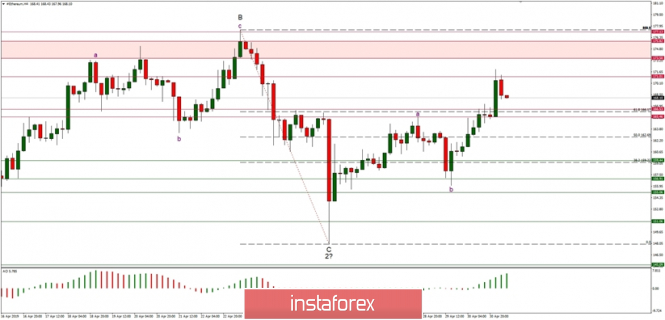 The material has been provided by InstaForex Company -
www.instaforex.com