4-hour timeframe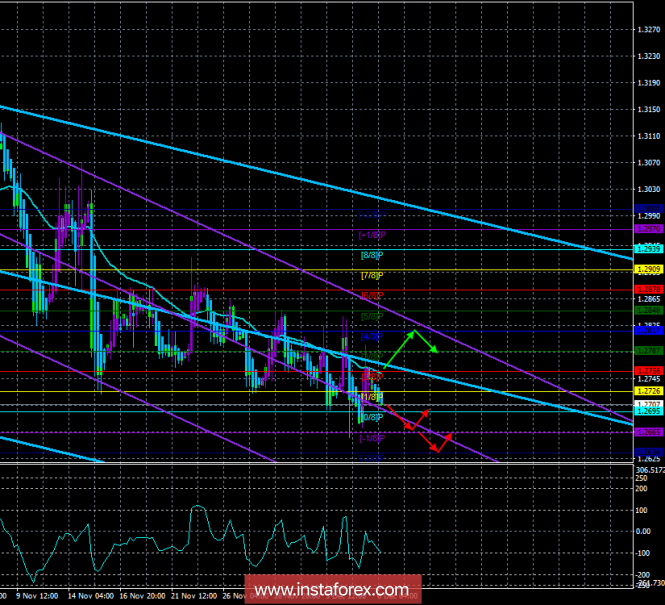 Technical details:
The senior linear regression channel: direction - down.
The junior linear regression channel: direction - down.
Moving average (20; smoothed) - down.
CCI: -106.2489
The currency pair GBP / USD on Thursday, December 6, once again adjusted to the moving average line, once again bounced off of it and resumed the downward movement. Thus, the pound continues a strong downward trend, and the markets continue to wait for the results of the debate in the British Parliament regarding the Theresa May Act on Brexit, as well as the results of the voting itself, which will be held on December 11. Without exaggeration, it can be said that for the pound sterling, as for the whole of Great Britain, the decisive moment comes. Theresa May has repeatedly stated in her interviews and speeches that there are only two options on Brexit, her script and the rejection of any agreements with the EU. Thus, the parliament will have to choose between "soft" and "hard" options for leaving the EU. Given the fact that about half of the parliament does not support either the first or the second option, it is impossible to predict how the vote will end. Also, do not forget about the option in which Britain can still refuse to leave the EU, since the European Court recognized the existence of such an opportunity, based on the Lisbon Treaty. From a technical point of view, nothing changes in the pair. From time to time, the instrument is adjusted, sometimes it even overcomes the MA, but, as a rule, only briefly, after which it resumes the fall.
Nearest support levels:
S1 - 1.2695
S2 - 1.2665
S3 - 1.2634
Nearest resistance levels:
R1 - 1.2726
R2 - 1.2756
R3 - 1.2787
Trading recommendations:
The currency pair GBP / USD resumed its downward movement. Therefore, at the moment, short positions with targets of 1.2665 and 1.2634 are again relevant. The upward reversal of Heikin Ashi will point to a new round of corrective movement to the moving or slightly higher.
Buy orders will become actual small lots with targets of 1.2817 and 1.2848 if the pair consolidates above the moving average line. However, even in this case, the growth of the British currency can be very short-term.
In addition to the technical picture, you should also consider the fundamental data and the time of their release.
Explanations for illustrations:
The senior linear regression channel is the blue lines of the unidirectional movement.
The junior linear channel is the purple lines of the unidirectional movement.
CCI is the blue line in the indicator regression window.
The moving average (20; smoothed) is the blue line on the price chart.
Murray levels - multi-colored horizontal stripes.
Heikin Ashi is an indicator that colors bars in blue or purple.
The material has been provided by InstaForex Company -
www.instaforex.com