The Swedish currency is at levels that were last seen during the global economic crisis. The collapse of value takes place in the face of the upcoming historic government elections, which carry the potential of a radical change of the existing political landscape.
On Wednesday, the SEK slides down the fifth day in a row against the EUR after it has reached the weakest level for more than nine years. The fall was the result of unfavorable data on retail sales at the beginning of the week, increasing this year's losses of the Swedish crown to over 8.0%.
The fall in SEK coincided with the decision of the central bank planned for next week regarding the interest rates. Foreign investors are afraid that Riksbank may postpone plans to start interest rate hikes from record-low negative levels, as it expects clear signals that inflation remains at 2.0%. The central bank is due to announce its next decision on September 6, three days before the election.
The economist's claims, that the prolonged weakness of the SEK results from a combination of factors, including the low rates and the negative impact of trade wars on the Swedish economy, which, unlike many others, relies heavily on exports. Moreover, in addition to the fact that there are Swedish general elections coming that foreign investors perceive as a risky event, one should remember about Italian elections, British Brexit and Donald Trump's actions towards Mexico and China. Surveys show that the nationalist, anti-immigrant party - the Swedish Democrats - is willing to gain much in the parliament, and some polls even suggest that they will win against the ruling social democrats, becoming the largest political group in the country. Convergent policy plans will certainly make it difficult for both large blocs to create a well-functioning government after 9 September.
Let's now take a look at the EUR/SEK technical picture at the daily time frame chart. The price has broken above the swing high at the level of 10/6941 and made a new local high at the level of 10.7259. The larger time frame chart is still up, the momentum remains strong, but the market conditions are now extremly overbought, so a short-term corrective pull-back can occur any time soon. The nearest support is seen at the level of 10.6000.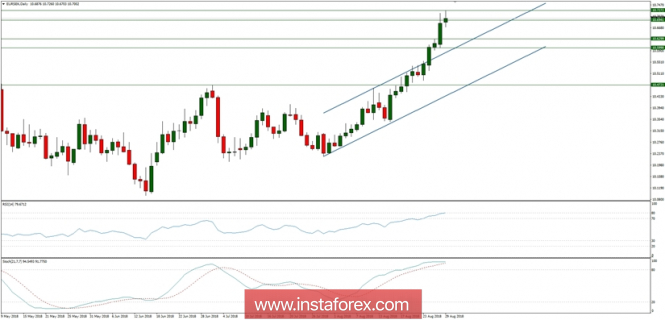 The material has been provided by InstaForex Company -
www.instaforex.com