The euro fell slightly in the morning after weak data on consumer sentiment in Germany, as well as to reduce consumer spending in France. In general, the situation remains on the side of buyers of risky assets, with the exception of the necessary technical correction down in front of a new wave of growth.
According to the leading data, which were provided today by the research company GfK, in September 2018, the mood of consumers in Germany will worsen. And this is provided that the overall economic expectations of companies have improved.
The leading index of consumer confidence in September will drop to 10.5 points from 10.6 points in August. Economists predicted that in September the index will remain unchanged, at the level of 10.6 points. Despite the slowdown in the dynamics of the index, GfK believes that the economic situation will remain favorable for consumers. The main problem remains the trade conflict between the United States and the uncertainty with energy prices.
In the morning, a report was also published on the growth of consumer spending in France. According to the data, expenditures grew by only 0.1% in July this year after rising by 0.3% in June. Economists had expected a reduction in spending in July compared with June by 0.2%. The main expenditure fell on food and clothing. Expenses for energy carriers in July decreased by 0.2%.
The second estimate of the growth of the US economy was ignored by the market, although it was revised upward.
According to the report of the Ministry of Trade, US GDP growth in the second quarter of 2018 was 4.2% per annum. In the first preliminary estimate, the US economy grew by 4.1% per annum. Economists predicted that the second estimate would be the same.
The report indicates that the revision was facilitated by a higher growth of companies' capital investments. A negative contribution to the valuation was made by consumer spending, which was revised with a slight decrease. Let me remind you that in the first quarter of this year, the US GDP was 2.2% per annum.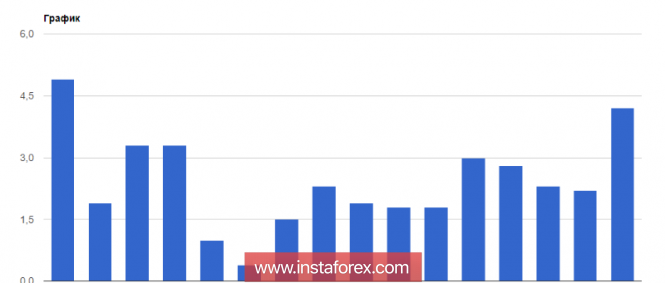 As for the technical correction of EUR / USD, the breakthrough of support 1.1665 may lead to the formation of a downward wave in risky assets, and therefore more acceptable levels for buying are seen in the areas of support 1.1620 and 1.1590. However, counting on the large growth of the euro at the end of this month and the break of the highs around 1.1730 will not be entirely correct. Most likely, the upward movement will continue only in early September, after a slight downward correction.
The material has been provided by InstaForex Company -
www.instaforex.com