In July, the Bank of Russia added to its treasury a substantial amount of gold, continuing the policy of systematically increasing the reserves of the royal metal. The spice is added by the fact that in the spring Russia sold off its US government bonds.
Russia increased its gold reserves by 26.1 tons, to the level of 2 170 tons - according to data from the International Monetary Fund. At the end of the previous month, Russian gold reserves were worth 77.4 billion dollars.
The mere fact of buying gold by the Bank of Russia is no surprise. For more than a decade, Russians have been systematically increasing metal reserves, on average a dozen or so tons per month. And so in June, the Bank of Russia reported an increase of 15.8 tons, in May by 18.4 tons, and in April by 19 tons. But July shopping was the biggest since November 2017.
Data on Russian gold purchases is hardly connected with the sanctions that the US government imposed on Russia in recent months. So far, it has been painful to hit the businesses of the Russian oligarchs that Washington carried out in April. The Kremlin's response is to try to overthrow the dollar as a global reserve currency. The Russian authorities are participating in the "anti-dollar" coalition together with China, Iran and, more recently, Turkey.
Let's now take a look at the Gold technical picture in the daily time frame. The market has bounced from the level of $1,159 and currently is trading close to the level of $1,204 which now will act as a technical resistance for the price. The market conditions are oversold and the bounce is being supported by the momentum indicator as well. On the lower time frame, the nearest intraday support is seen at the level of $1,181.20.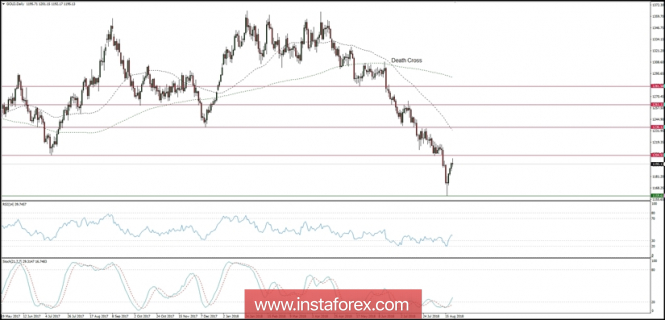 The material has been provided by InstaForex Company -
www.instaforex.com