4-hour timeframe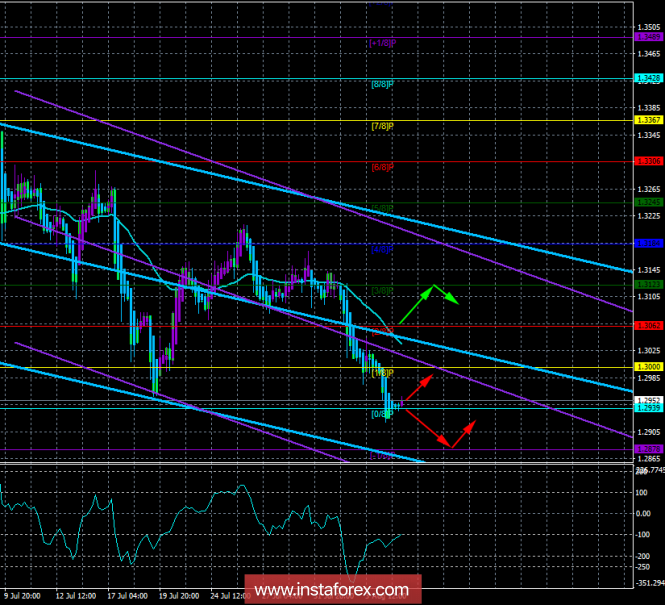 Technical data:
The senior channel of linear regression: direction - down.
The younger channel of linear regression: direction - down.
Moving average (20, smoothed) - down.
CCI: -89.1029
The GBP / USD currency pair worked on Murray's target level of 0/8 - 1.2939 on August 6, and jumped from it, indicating the intention to begin the long-awaited upward correction. It should be noted immediately that the correction may be very shallow, as the demand for the US currency is now extremely high and correction can be triggered by fixing profits on a part of short positions. In the meantime, British experts believe that the EU is dragging out the Brexit negotiations process with all its might. The people of the British government, referring to the Lisbon Treaty, believe that the EU should do everything possible to "maintain" relations with London after Britain leaves the European Union. That is, London continues to insist on a "deal" with Brussels, accusing Brussels of deliberately delaying the process, which may result in Britain leaving the EU without any arrangements. The former British minister for Brexit David Davis believes that the EU is making a big mistake, believing that London will not be able to withdraw from the EU without a deal. In general, we are getting a new round of development of the situation with Brexit, which again is clearly not in favor of the pound sterling. This is another reason why correction may be minimal.
Nearest support levels:
S1 = 1.2939
S2 = 1.2878
S3 - 1.2817
Nearest resistance levels:
R1 1.3000
R2 = 1.3062
R3 = 1.3123
Trading recommendations:
The pair GBP / USD has fulfilled the level of 1.2939 and can start to be corrected. If Heikin Ashi turns up, the correction can be worked out with small lots for the purpose of moving. For more strength, the bulls are clearly not enough now.
It is recommended to open short positions in case of overcoming the level of 1.2939 with the target of 1.2878. Or after the completion of the correction, which has not yet begun, but is possible. Positions of bears remain strong, and demand for US dollar - high.
In addition to the technical picture, one should also take into account the fundamental data and the time of their release.
Explanations for illustrations:
The upper channel of linear regression is the blue lines of unidirectional motion.
The junior channel is linear-violet lines of unidirectional motion.
CCI - the blue line in the regression window of the indicator.
Moving average (20; smoothed) - the blue line on the price chart.
Levels of Murray - multi-colored horizontal stripes.
Heikin Ashi is an indicator that color bars in blue or purple.
The material has been provided by InstaForex Company -
www.instaforex.com