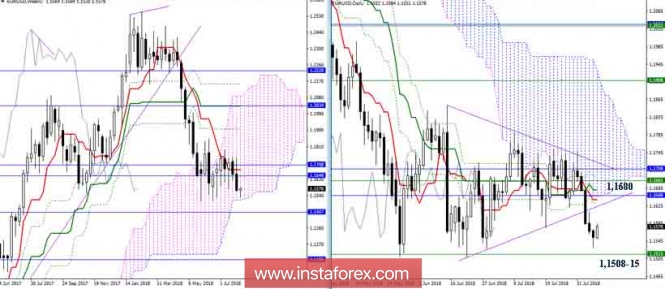 EUR / USD pair
Players to fall are attempting to go beyond the zone of uncertainty, restraining the development of events in the past few months. In this direction, the most important is the breakdown of the lower boundary of the weekly cloud (1.1515) and the recovery of the weekly downtrend (1.1508). The weakness of bears when interacting with supports can return the pair to an uncertainty of 1.1648 (monthly Senkou Span A + day Senkou Span A + day Tenkan) - 1.1680 (week Tenkan) - 1.1708 (monthly Fibo Kijun + daytime Fibo Kijun) while the initiative and the chance to leave the zone will be transferred to the rival.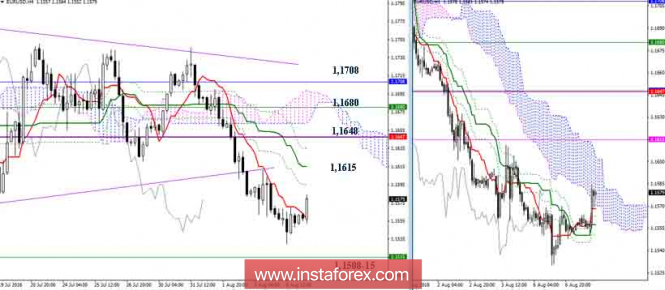 At the moment, the pair is in the correction zone, which has already shifted the alignment of forces on H1 in favor of players to rise, allowing to develop a corrective lift. The nearest significant upward direction is now the area of 1.1615 (Kijun N4 + cloud H1). The fastening above liquidates the H4 dead cross and forms the first upward target. Furthermore, the values will be 1.1648 - 1.1680 - 1.1708. The completion of the correction and the restoration of the downward trend will return the bears to the interaction with 1.1508-15.
Indicator parameters:
all time intervals 9 - 26 - 52
Color of indicator lines:
Tenkan (short-term trend) - red,
Kijun (medium-term trend) - green,
Fibo Kijun is a green dotted line,
Chikou is gray,
clouds: Senkou Span B (SSB, long-term trend) - blue,
Senkou Span A (SSA) - pink.
Color of additional lines:
support and resistance MN - blue, W1 - green, D1 - red, H4 - pink, H1 - gray,
horizontal levels (not Ichimoku) - brown,
trend lines - purple.
The material has been provided by InstaForex Company -
www.instaforex.com