Tesla shares gained 10.99% after information appeared in the media that a large stake in the company is held by the Saudi fund, and Elon Musk wrote on Twitter that he is considering withdrawing Tesla from the stock exchange and has already secured funds for this purpose.
The state-owned Saudi equity fund acquired from 3 to 5 percent shares in Tesla this year only. This puts the Saudis among the eight largest shareholders of the company. The value of the shares ranges from 1.8 to 3.1 billion dollars. Information is unofficial, the obligation to disclose ownership occurs when the threshold of 5% is exceeded. Current shareholders could either sell shares for $420 or have shares in a non-public company that Tesla would become.
At 20:08, the company's quotes were suspended. For one Tesla share, $ 367.25 was then paid, of 7.39% more than at yesterday's close. Former chairman of the US Securities and Exchange Commission (SEC) Harvey Pitt told CNBC that Musk, by publishing a tweet that had won the stock price, could break the law.
After 20:00, the entry of Musk appeared on Tesla's blog, in which the billionaire referred in more detail to the issue of withdrawing the company from the stock exchange. He stressed that the aim of such a move is to create an appropriate environment for the company's operations, while the status of a public company exerts great pressure on making good decisions in the short term, but not necessarily in a longer time, and stock price fluctuations affect the mood of employees who are also shareholders of Tesla. Musk noted that Tesla is the shortest company in the history of the stock market, and being a public company means "there are a large number of people who are motivated to attack the company."
Musk again recalled the promises mentioned in the above posts on Twitter and his expectations about the future of his and Tesla as a private company and stressed that his goal is not to combine Tesla with SpaceX. The billionaire did not mention who would invest in Tesla. Price 420 dollars for the share gives a company valuation at the level of $72 billion.
Let's now take a look at TESLA stock technical picture at the H4 time frame. The first target for bulls at the way to $420 is the technical resistance at the level of $389. The price is trading very close to this level, but it all depends on how the price will behave after today's open and where it will close this week. The momentum is strong and points to the north. The immediate support is seen at the level of $373.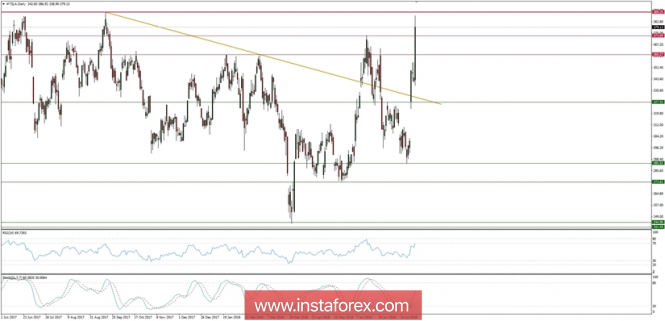 The material has been provided by InstaForex Company -
www.instaforex.com