The upward movement of the previous days indicates a bullish priority. Yesterday, there was a test of the main support for weekly control zone 1/2 1.1698-1.1689, which led to an increase in demand and the formation of the next portion of the ascending model.
Holding the price of the above-mentioned calculation for NKZ 1/2 1.1698-1.1689 indicates the continuation of the formation of the upward medium-term model. It is important to note that there was a consolidation above the weekly KZ 1.1729-1.1711 this week, which indicates a 70% chance of further growth to the target zone NKZ 1/2 1.1830-1.1821, testing this level will complete the next phase of the upward momentum. The formation of the last two daily candles indicates the presence of both demand and supply. Hence, the American session should close above this level today in order to continue growth.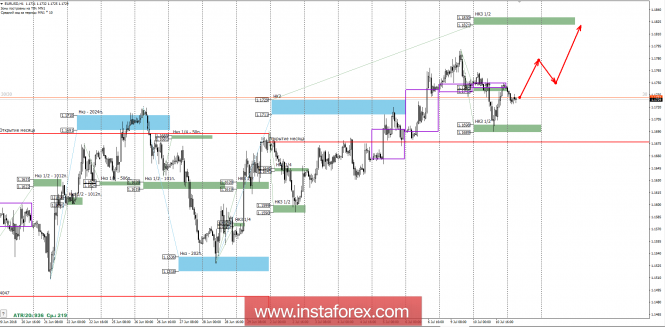 Short trades do not have a favorable risk-to-profit ratio, so it's pointless to consider them today. The trade plan indicates the need to hold purchases made from the NKZ 1/2 1.1698-1.1689 to the NKZ 1/2 target zone 1.1830-1.1821.
For the reversal model formation, it will require the growth absorption of the three-day prescription and fixing the price below the 1.1689 level. This will open the way for the formation of the medium-term downward movement and the target is the weekly KZ 1.1607-1.1589. For this reason, short transactions will move forward not earlier than tomorrow's European session if the closing of today's trading will be below the 1.1689 level. Purchases are beneficial in terms of the risk-to-profit ratio and the probability of completing the pattern within this range.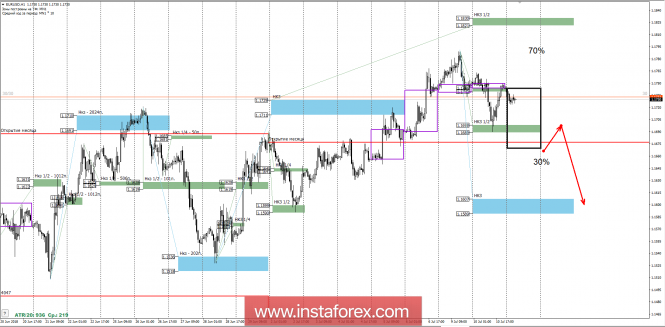 ---
Daytime CP is the daytime control zone. The zone formed by important data from the futures market, which change several times a year.
Weekly CP is the weekly control zone. The zone formed by important futures market marks, which change several times a year.
Monthly CP is the monthly control zone. The zone which is a reflection of the average volatility over the past year.
* The presented market analysis is informative and does not constitute a guide to the transaction.
The material has been provided by InstaForex Company -
www.instaforex.com