The cryptocurrency and blockchain organizations in Switzerland, Kazakhstan, and Armenia joined those from Russia, China and South Korea in filing a joint lawsuit against the main Internet companies for the prohibition of cryptographic advertising, according to the local Russian information service RNS. Plans to file a joint lawsuit against technological giants - Google, Twitter, and Facebook - were released on March 27. The organizations that originally complained were the Russian Cryptocurrency and Blockchain Association (RACIB), Korea Venture Business Associations and LCBT, the Chinese cryptographic investors' association.
According to Yuri Pripachkin, president of RACIB, new members of the joint lawsuit are associations such as the Swiss company fintech InnMind, the Armenian Blockchain Association and the Kazakhstan Blockchain and Cryptocurrency Association. A joint lawsuit will be filed in May 2018 in New York. Funds for lawyers will be collected on a digital wallet registered in Estonia, Pripachkin noted.
On January 30, Facebook blocked ads related to cryptocurrencies and ICO, citing "misleading or deceptive promotional practices." In March, Google followed Facebook, announcing that from June it will block any type of ads that will be associated with cryptocurrencies. At the end of March, Twitter also confirmed that it will block cryptography-related advertising, such as ICO, cryptocurrency exchanges, and portfolio services, with the exception of public companies' advertising.
Let's now take a look at the Bitcoin technical picture at the H4 time frame. The market is again very close to the key short-term technical support at the level of $6,400. Any breakout below this level will open the road towards the weekly pivot support at the level of $5,920 and then to the key mid-term technical support at the level of $5,820. The key short-term technical resistance is still seen at the level of $7,442.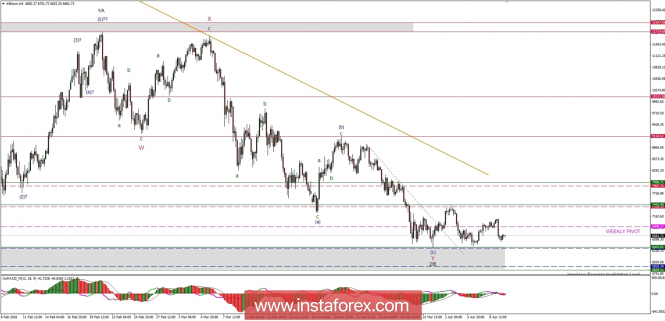 The material has been provided by InstaForex Company -
www.instaforex.com