The German National Tourism Council (GNTB) now accepts Bitcoin and other cryptocurrencies as a form of payment for its services. "As part of our strategy for digitization, we constantly look at the latest technologies and trends and check whether they can be implemented in our company."- said Petra Hedorfer, general director of GNTB. The marketing organization stated that it is interested in testing basic Blockchain cryptographic technology for its financial operations and can use it for international payments. As a global company, GNTB wants to set an example as a leader in the tourism industry, said Hedorfer.
The National Tourism Council, GNTB with its headquarters in Frankfurt, is subject to the Federal Ministry of Economy and Energy, from which it also receives funding. GNTB aims to develop strategies and products that positively represent Germany as an attractive destination. To this end, the organization serves 32 agencies abroad.
At the end of February 2018, the Federal Ministry of Finance recognized the virtual currency as an acceptable payment offer in accordance with the precedent set by the European Court of Justice in 2015. Germany intends to cooperate with the EU and other countries in the regulation of trading platforms and initial coin offers (ICO ). The first detailed regulations for ICO operators in Germany were passed at the end of February by the Federal Financial Supervisory Authority (BaFin), which has power over the cryptographic space due to the current lack of specific provisions.
Let's now take a look at the Bitcoin technical picture at the H4 time frame. The impulsive upward scenario has been invalidated due to wave (2) entering the territory of the wave (1). Now the overall count has been updated as well, but the main upwards scenario has not been changed yet, it is still valid unless the level of $5,829 will be broken.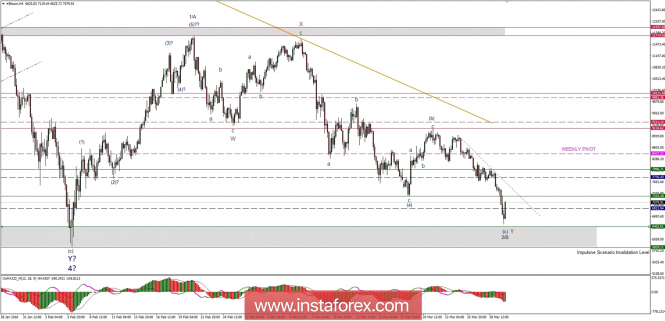 The material has been provided by InstaForex Company -
www.instaforex.com