Trading plan for 08/09/2017
The general picture: Correction, uncertainty.
Trump frightened the markets.
In the market. The lack of important news on the economy. Developed countries the height of holidays, even Merkel, who has elections in a month, and that on vacation.
The main events on the economy will begin in the last week of August, with the meeting of the heads of the largest securities in Jackson Hole, Wyoming.
But then, Mr. Trump actually delivered an ultimatum to North Korea, promising her "shock and awe." Trump said that the United States would respond with a blow to new attempts to threaten a blow to the United States. According to US intelligence reports, Kim Jong-un's regime has a ready-made ballistic missile capable of flying to the US (two launches have been conducted), and is already preparing a miniature nuclear bomb that can be mounted on a rocket. Trump guaranteed that he would not tolerate a threat to the United States from North Korea.
In fact, this means that the new launch of the intercontinental missile by North Korea or a new nuclear test makes the US attack on North Korea very likely.
It would also be very necessary for Trump to be inside-politically: Trump lost to his opponents on all fronts, failed all his promises - the wall on the border with Mexico, the trade barriers against China, to force Europe to pay for NATO, to introduce a new medical insurance program, to solve the Putin problem etc.
But a blow to North Korea can return Trump the image of a "real man", especially the US president's authority to strike outside of the United States is not limited.
The markets, of course, were frightened. The US market retreated from new highs.
EURUSD
Consolidation, as promised.
We stand on sale, our stop and a coup upstairs at 1.1825. You can aggressively buy from 1.1750 and below (the trend is not canceled yet), it's more conservative to wait for 1.1825.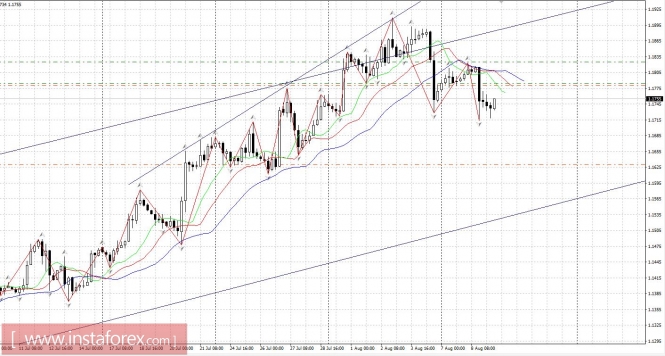 The material has been provided by InstaForex Company -
www.instaforex.com