EUR/USD
For long positions on EUR/USD:
The euro is still capped at 1.1378 and several attempts to rise above that level have not yet led to success. In the afternoon, another attempt to continue the upward movement may be made, and the consolidation to 1.1378 would be a good signal to buy the euro in order to go back to the area of 1.1419 and 1.1464. In the event of a return to the 1.1354 level, it is prudent to postpone long positions until it reaches the area of 1.1332 and 1.1309.
For short positions on EUR/USD:
I advise against selling the euro today. The morning rebound from the 1.1376 level occurred against the backdrop of divergence. Still, the return of large sellers to the market is not observed. It is best to wait for an upward movement in the area of 1.1419 and try to sell for a rebound from this level with a small stop above. More active traders can be seen in the area of 1.1464.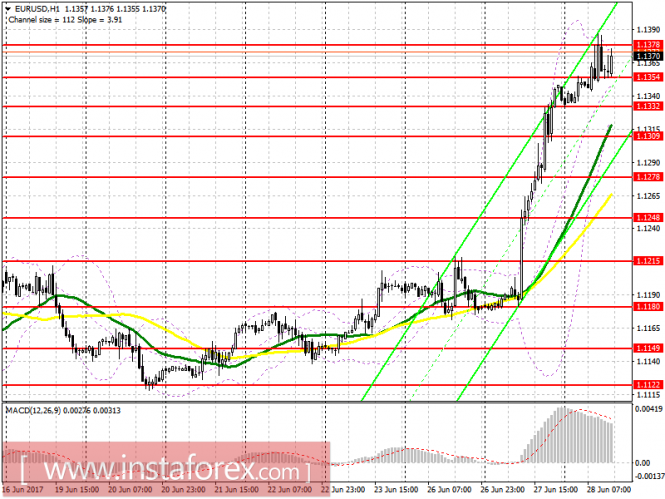 GBP/USD
For long positions on GBP/USD:
Buyers managed to work out the support level of 1.2797, which I advised to pay attention to in my morning review. So far, the upside potential for the pair remains. The break of the daily high will lead to the continuation of the upward trend with the new resistance level of 1.2856, the consolidation which opens the direct route to 1.2913, where I advised to take profits. If the pound drops again to 1.2797, it is sensible to postpone purchases until the 1.2761 level.
For short positions on GBP/USD:
Sellers will attempt today to keep the pair below 1.2856, and the formation there of a false breakdown, with a return to this level, will increase short positions for large players in order to revert to the area of 1.2797 and 1.2761. In the case of a repeated decline in the support range of 1.2797, without updating 1.2856, we can expect a larger drop in the sterling already in the area of 1.2761 and 1.2709.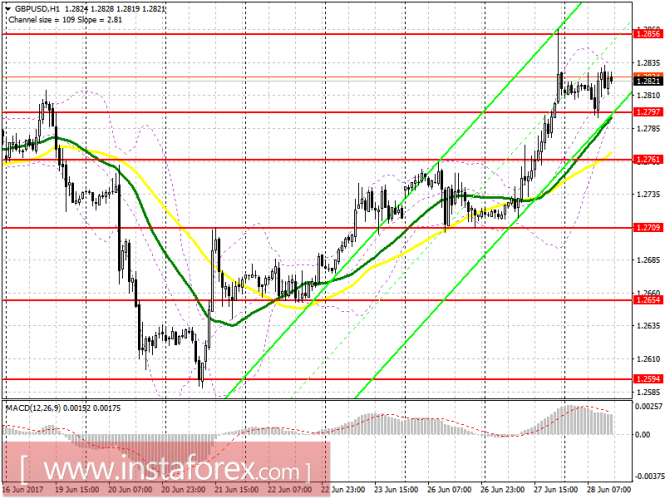 Fears of Indicators
MA (medium sliding) 50 days - yellow
MA (moving average) 30 days - green
MACD: fast EMA 12, slow EMA 26, SMA 9
Bollinger Bands 20
The material has been provided by InstaForex Company -
www.instaforex.com