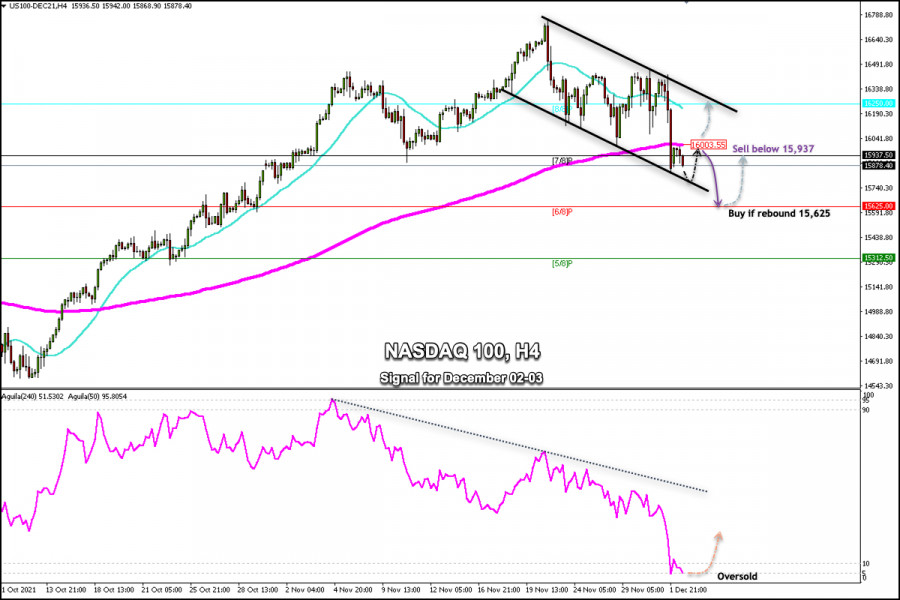 Nasdaq 100 Technology Index (#NDX) is trading below the 200 EMA at 16.003 and below the reversal line of 7/8 Murray. This represents a negative sign and the index could continue its bearish move towards 6/8 Murray at 15,625.
Yesterday after the announcement in the US that a case of Omicron had been detected in California in a fully vaccinated person, it caused a sharp turn in US stocks. The stock market incurred losse and closed the session with sharp falls.
In this morning, we see a small recovery. The Nasdaq could fall to the bottom of the bearish channel formed on the 4-hour chart around 14,750, if this level is broken to the support of 6/8 Murray at 16,250.
On the other hand, a pullback towards the 200 EMA around 16,000 will be a good opportunity to sell the Nasdaq with targets at 6/8 murray. On the opposite side, a technical bounce around 15,625 will be a good opportunity to buy with targets at 15,937.
The eagle indicator is showing an oversold signal which could favor the recovery of the Nasdaq technology index in the coming hours.
Our forecast in the next few hours for the Nasdaq 100 is a rebound around 15,780 (bottom of bearish channel). As long as NDX is trading above this zone, we will have an opportunity to buy with the target at 16,000 (200 EMA). If 7/8 is broken, we could buy with targets at 16,250 (8/8).
Support and Resistance Levels for December 02 - 03 2021
Resistance (3) 16,247
Resistance (2) 16,036
Resistance (1) 15,937
----------------------------
Support (1) 15,769
Support (2) 15,625
Support (3) 15,491
***********************************************************
A trading tip for Nasdaq 100 December 02 - 03, 2021
Sell in case of pullback at 16,000 (200 EMA) with take profit at 15,740 and 1,625 (6/8), stop loss above 16,070.
The material has been provided by InstaForex Company -
www.instaforex.com