The British has been testing a downtrend channel formed since October 26. This trend line is putting strong downward pressure on the pair. If it breaks and consolidates above, this price action could be the start of a bullish move with targets up to the 200 EMA located at 1.3598.
For the GBP / USD pair to resume its downward movement, it should trade below the key support of 1.3423. There is the 21 SMA and the 6/8 Murray which offer strong support.
If in the next few hours the British pound falls below 1.3423, it could accelerate the downward movement to the 5/8 murray support located at 1.3305. We should wait for a confirmation to sell only if it remains below the 21 SMA.
The 4-hour chart shows that the British pound is trying to regain losses. It is now settled above the key support of 1.3427. GBP/USD is expected to continue its bullish movement in the next few hours. The pair might continue bouncing until it finds resistance at the 200 EMA located at 1.3598.
The eagle indicator is giving a positive signal that supports our bullish outlook for the next few days. You can buy as long as the pound is trading above 1.3423 with targets at 1.3549 and up to 1.3598.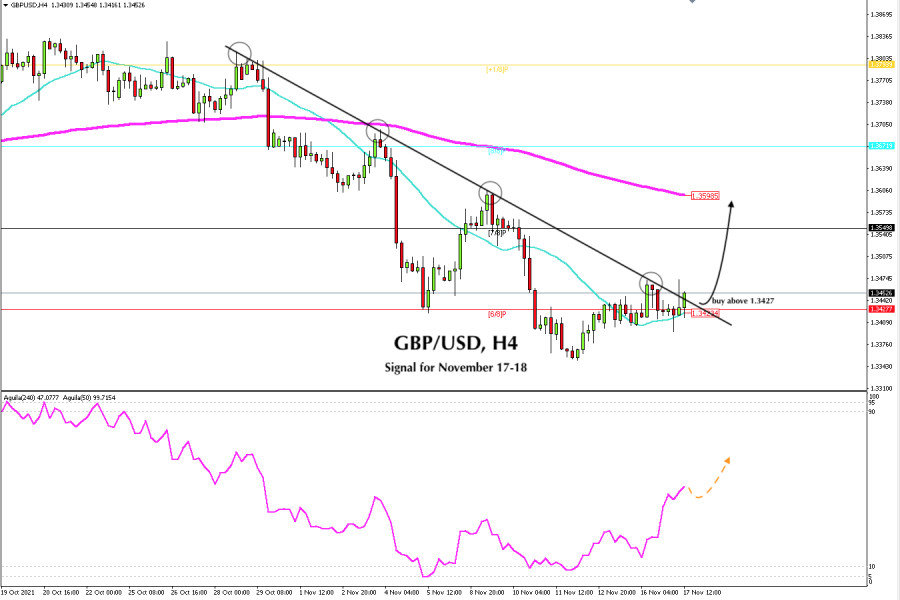 Support and Resistance Levels for November 17 - 18, 2021
Resistance (3) 1.3562
Resistance (2) 1.3531
Resistance (1) 1.3501
----------------------------
Support (1) 1.3427
Support (2) 1.3395
Support (3) 1.3365
***********************************************************
A trading tip for GBP/USD for November 17 - 18, 2021
Buy above 1.3427 (SMA 21 - 6/8) with take profit at 1.3548 and 1.3598 (EMA 200) and stop loss below 1.3490.
The material has been provided by InstaForex Company -
www.instaforex.com