Bitcoin has updated its historical maximum on Wednesday. This is a good sign: ETF approval, so far only two, has proven to be a very strong driver for the market.
Investors did not "sell the fact," and at the time of this writing, the main cryptocurrency has reached $67,000 per coin.
What are the targets for BTCUSD now?
Well, it looks like fears about a possible correction and an unfinished bearish cycle are behind and the next mark that looms ahead is $100,000 per coin. And if you remember how the 2017 high was updated and how quickly bitcoin grew from 20,000 to 64,000, we can assume that the main cryptocurrency will reach the new target quickly.
And when the historical maximum is updated and only the sky is higher (there are no limit players), the targets are tentative. I suggest taking advantage of the unrealized levels of the old Fibo Expansion, which was stretched back during the $64,000 hike in April. And as soon as the need arises, we will change it to a new one.
So, now the nearest technical targets are at the levels 67,044.68 (100 by Fibo Expansion) and 72,240.60 (161.8 by Fibo Expansion). The first one is almost reached, so locally we can wait for either a cautious correction or a breakout and further to the Moon.
ETFs are just the beginning
An all-time high was updated against the backdrop of the listing of the ProShares ETF on the NYSE.
The share price of the first US Bitcoin ETF rallied after its debut on Tuesday. The ProShares Bitcoin Strategy ETF, under the ticker "BITO," reportedly jumped 4.8% to close at $41.94.
This could mark the beginning of competition between firms looking to offer Bitcoin ETFs to their clients. According to a source familiar with the situation, Invesco is not far behind in popularity among regulators. However, just a day before listing the ProShares ETF, it announced that it would not proceed with the launch.
Monday, October 25 - VanEck Listing
The US Securities and Exchange Commission appears to have approved the exchange-traded fund Bitcoin Strategy of asset manager VanEck. Trading is expected to begin on October 25th.
In an October 20 statement filed with the SEC, VanEck announced that the public offering of its Bitcoin Strategy ETF, which offers access to the crypto asset through future contracts, will begin "as soon as possible" after the effective date - October 23. This suggests that the company can list its shares on the stock exchange as early as Monday, October 25th.
Unlike ETFs that offer direct access to cryptocurrency, which have not been approved by the SEC, the VanEck ETF will provide access through futures contracts.
VanEck first applied for a bitcoin futures ETF in August and may now follow the example of ProShares' launch on the New York Stock Exchange.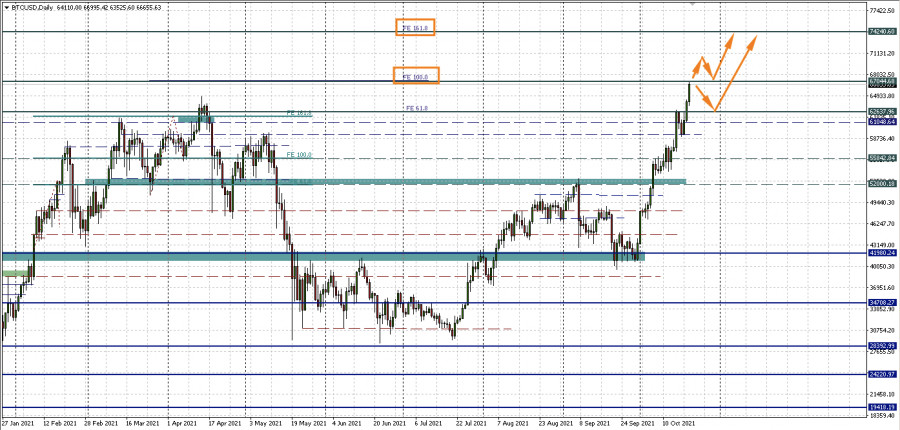 The material has been provided by InstaForex Company -
www.instaforex.com