The rise in oil prices to 7-year highs risks slowing down the US economic recovery. The IEA estimates that the removal of Iran sanctions could lead to an increase of 1.3 million bpd in the country's oil output. Why not change the policy of the stick towards China to the policy of the carrot? PRC seriously intends to intervene in the coal markets to discourage speculators from raising prices. The effectiveness of such strategies is unclear. So far, worried by Beijing's interventions oil buyers have decided to wait a little.
The energy crisis in Europe and Asia as well as OPEC+'s failure to raise production by 400k bpd a month are also affecting Brent and WTI prices. Angola, Nigeria, and Azerbaijan, due to lack of investment and other problems, are unable to supply the output increases required by the Alliance. This leads to an OPEC+ production cut of 15% more in September, down from 16% in August and 9% in July.
It looks like the US has to look for other options to lower oil prices, such as domestic resources. According to the American Petroleum Institute, inventories rose by 3.3 million barrels in the week to 15 October. If the statistics are confirmed by the Energy Information Administration, it would be the fourth consecutive week of rising inventories. This indicates a decline in domestic demand and supports the Brent and WTI bears.
Dynamics of US oil stocks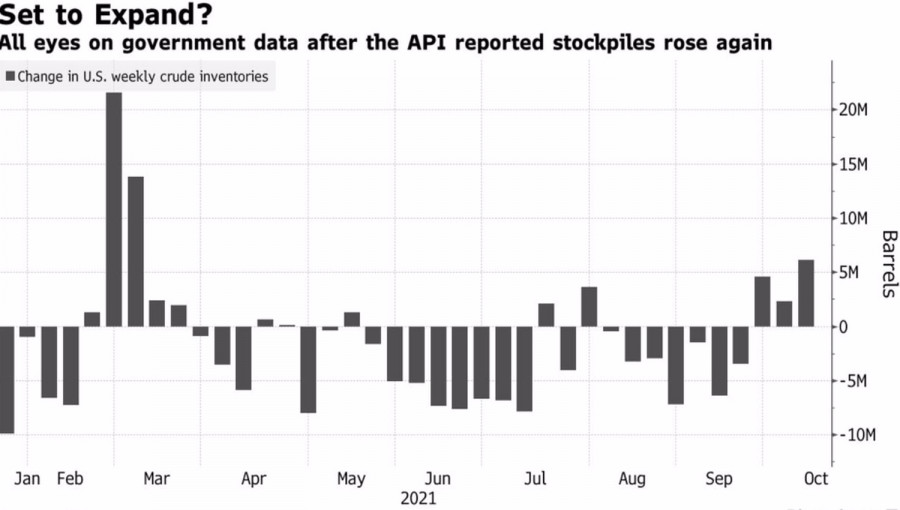 To help oil sellers, China said it would bring coal prices back to a reasonable range and eliminate any malicious speculation that drives up the cost of the commodity. The energy crisis leads to the replacement of coal and gas by diesel and fuel oil, which increases the already high demand for oil and boosts Brent and WTI prices. Iraqi officials believe Brent crude could rise to $100 a barrel in the first or second quarter of 2022 as global inventories are at historically low levels.
Beijing is able to deal with speculators who have inflated coal prices, but in Europe, the situation is more complicated. Russia is playing political games by claiming it is ready to increase supplies, although it is not actually doing so. They expect to push Germany to approve the controversial Nord Stream 2 pipeline in this way
They will probably succeed.
Technically, Brent has fulfilled all of its Woolf wave pattern targets. This reinforces the risks of a correction. However, there is no doubt about the strength of the bulls, so pullbacks towards pivot levels at $82.5 and $81.1/bbl should be used to form long positions.
Brent, daily chart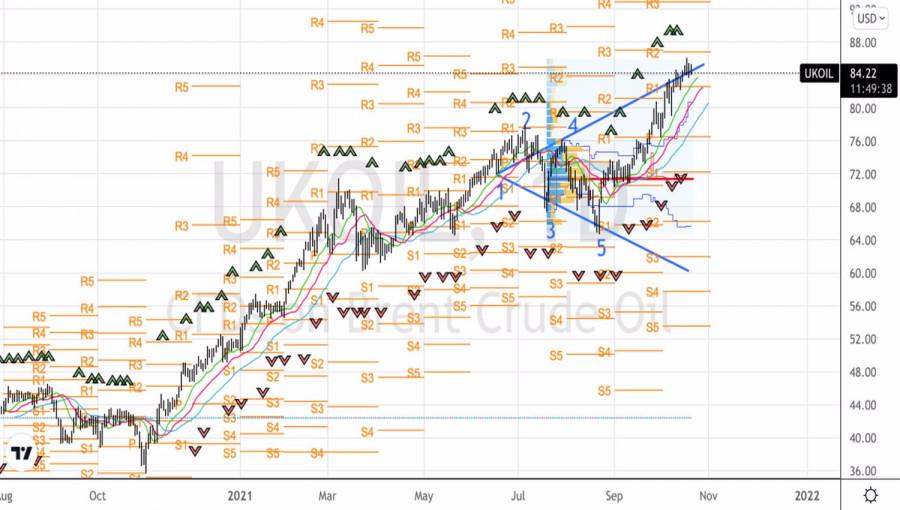 The material has been provided by InstaForex Company -
www.instaforex.com