4-hour timeframe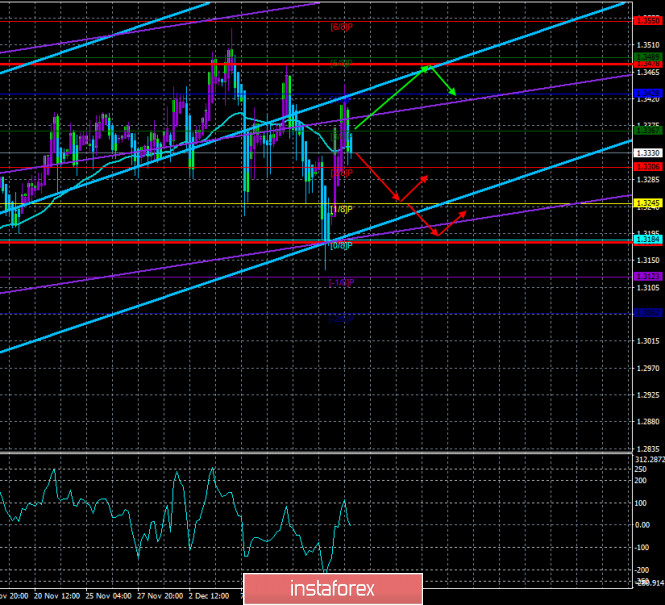 Technical details:
Higher linear regression channel: direction - upward.
Lower linear regression channel: direction - upward.
Moving average (20; smoothed) - sideways.
CCI: -6.1795
The British currency continues to be in a state of "storm". The last upward movement was by 310 points and the pair overcame this distance in just a day. However, the nature of the pair's movement now is such that the trend movements and corrections are almost identical in size. Moreover, it is very difficult to tell where the main movement is and where the correction is. The linear regression channels system is a trend system. At the same time, the pair's quotes constantly change the direction of movement, which leads to regular price fixing above or below the moving average. Thus, formally, the upward trend is even maintained now, since both linear regression channels are directed upwards. The "high-volatility swing" is now continuing. The most interesting thing is that now traders do not know what to do next? The recent gains in the pound are solely due to expectations of a deal between the UK and the EU. However, there is still no deal, and the "transition period" is already more than 2 weeks away. We remind you that if Michel Barnier and David Frost manage to reach an agreement, it will be their agreement and not a treaty between the EU and Britain. Naturally, both heads of the negotiating groups act on the whim of Ursula von der Leyen and Boris Johnson, as well as other leaders of the Kingdom and the Alliance. However, this does not mean that the UK and EU Parliaments will immediately approve a potential agreement if it can be reached at all. In any case, parliamentarians will need time to at least study the document, which will have at least several hundred pages. It needs to be studied carefully. What are the chances that no one will want to make changes to it and the negotiations will not need to be resumed again? In general, from our point of view, there were no reasons for optimism. Moreover, Ursula von der Leyen and Boris Johnson regularly add fuel to the fire. They regularly make statements that "most likely a deal will not be reached, which means everyone needs to prepare for a "hard" Brexit and that "serious differences remain between the parties on key issues". I wonder if the head of the European Commission and the British Prime Minister are trying to convince the public that they want to reach an agreement and believe in it, or vice versa?
In general, on Sunday, the parties did not even wait for the evening and immediately in the morning said that an agreement could not be reached and trade negotiations will continue "as long as there is at least some hope of reaching an agreement". That is what we have already written about many times. It makes no sense for London and Brussels to "divorce" without a deal, so the parties will continue to work on this issue. And how long it will take is the second question. All the deadlines that Johnson, Barnier, Frost, and von der Leyen regularly voice are nothing more than a desire to show that the parties are in a hurry and working intensively. We would not be surprised if the negotiations continue in 2021. Although Boris Johnson has previously stated that the "transition period" will end on December 31 in any case. However, Johnson said a lot of things, which he later "forgot".
Meanwhile, the UK authorities are no longer just warning that it is necessary to prepare for a "hard" Brexit, but also give specific recommendations to businesses on what to do in this regard. For example, the authorities recommend that all subjects of the medical sphere stock up on medicines that would last for 6 weeks. Manufacturers warn that there may be a shortage of fruit and vegetables in the first two months of 2021. Many retailers warn that many products will increase in price immediately by 5-10%. Some cheeses can go up by 50%, and meat - by 20%. In the absence of a trade agreement, import-export operations can be extremely difficult. This could stop the export of some perishable goods from Britain and create a shortage of similar goods for the same reasons. "I'm afraid we are still very far away in some key things, but we are alive, we hope we will keep talking to see what we can do. The UK will not withdraw from the negotiations," the British Prime Minister said. Do you remember earlier Johnson said that after October 15, negotiations do not make sense to continue?
Thus, from our point of view, the situation for the UK remains extremely dangerous. The EU economy will also suffer from a "hard" Brexit, but not as much as the British economy. For the Kingdom, it could be a disaster. Based on this, we still do not understand why the pound continues to trade around its 2.5-year highs? It's one thing if there were real reasons to expect a deal to be reached, but there aren't any. The parties continue to state that serious differences remain on three main issues. And there is no progress on these issues, or it is insignificant. Then why are traders waiting for an agreement to be concluded? We believe that the pound sterling, as well as the euro, is extremely overbought. And it is almost waiting for the fall. Of course, as with any other hypothesis, we recommend waiting for specific technical signals and confirmations to appear. Without them, it is impractical to start selling the pound. And while they are not there, it remains only to trade in such a swing as now, or not to trade at all, waiting for more favorable conditions. On the hourly chart, the picture is more clear.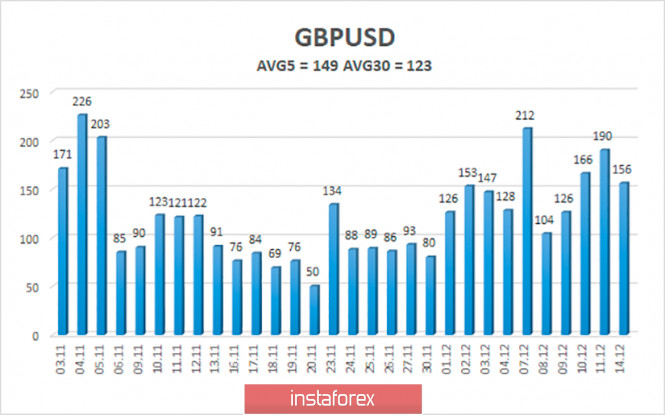 The average volatility of the GBP/USD pair is currently 149 points per day. For the pound/dollar pair, this value is "high". On Tuesday, December 15, therefore, we expect movement inside the channel, limited by the levels of 1.3180 and 1.3478. The reversal of the Heiken Ashi indicator back up may signal a new round of upward movement.
Nearest support levels:
S1 – 1.3306
S2 – 1.3245
S3 – 1.3184
Nearest resistance levels:
R1 – 1.3367
R2 – 1.3428
R3 – 1.3489
Trading recommendations:
The GBP/USD pair on the 4-hour timeframe is now in a new round of downward movement. Thus, today it is recommended to sell the pair with targets of 1.3245 and 1.3184 if the price overcomes the moving average. It is recommended to trade the pair again for an increase with targets of 1.3428 and 1.3478 if the price bounces off the moving average line. In general, high-volatility "swings" are continuing now. This is not a good time to trade.
The material has been provided by InstaForex Company -
www.instaforex.com