2020 is coming to an end being weighed down by a global pandemic. The currency markets went crazy in the wake of the US presidential election, Europe's Brexit saga, and widespread hopes that mass vaccination of the population in Western countries next year will lead to a fast recovery of the global economy.
The recent events in the markets are clearly different from what happened before. During the time that everything was going well, December ended with a Christmas rally in stock markets, but this did not happen this year. The intensified confrontation between the still incumbent US President, Mr. Donald Trump and the incoming President, Mr. Biden has become big. World currency markets were agitated with the uncertainty about whether the stimulus program that will support the Americans will be adopted or not. Here, Trump initially blocked the program adopted by Congress, but gave a go signal this weekend as he is under pressure from the Republican Party.
In such conditions, market volatility has clearly grown significantly. For example, it reached almost 5% on some days in the US stock markets, which led to a sharp decline, followed by the same strong pullback of stock indices during one trading session. A similar picture was observed in the currency markets. However, it should be recognized that the movements were still not so dynamic.
The most striking example of the investors' reaction to all these events was Bitcoin's price growth, which soared this month above the previously insurmountable mark of $ 20,000 to 28,000. Such dynamics fully reflect the growing fears in the investor environment that inflated bubbles may burst in stock markets.
In the currency market, the US dollar is expected to decline against major currencies. The presence of massive stimulus measures for the US economy, which makes the supply of the dollar in the financial system excessive, still exerts pressure on the indicated currency. Therefore, assessing its prospects, we believe that the US currency will continue to weaken until the end of this year, as well as at the beginning of the next.
There is only one reason that can prevent this – the next outbreak of COVID-19 and the extremely slow rate of vaccination of the population. But, if this does happen, there will only be a small stop on the likely prolonged decline of the US dollar.
Today's trading session will be limited due to the continuing holidays in Canada, New Zealand, Australia and the UK.
Forecast of the day:
The EUR/USD pair is trading slightly above the level of 1.2220. It will most likely further rise to the level of 1.2270.
The AUD/USD pair has resumed its growth. We believe that the price breaking through the level of 0.7625 will lead to its further growth to 0.7670.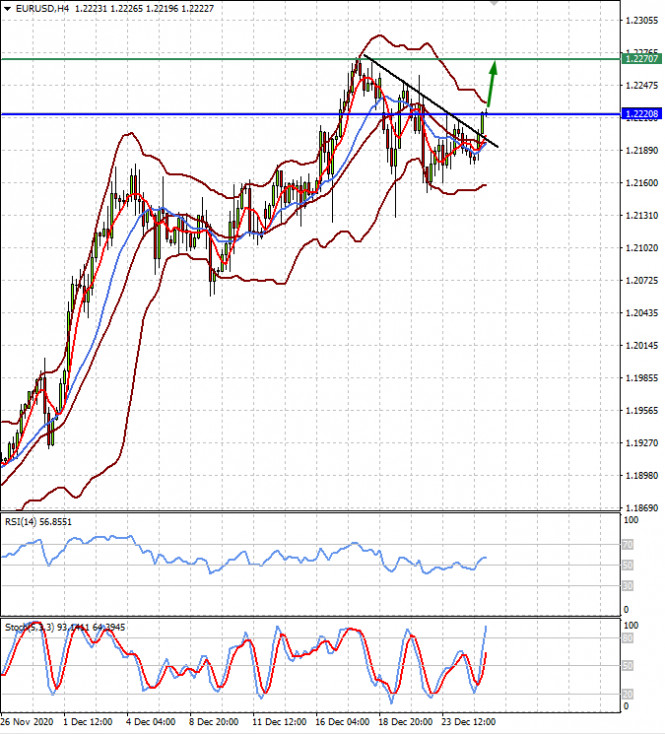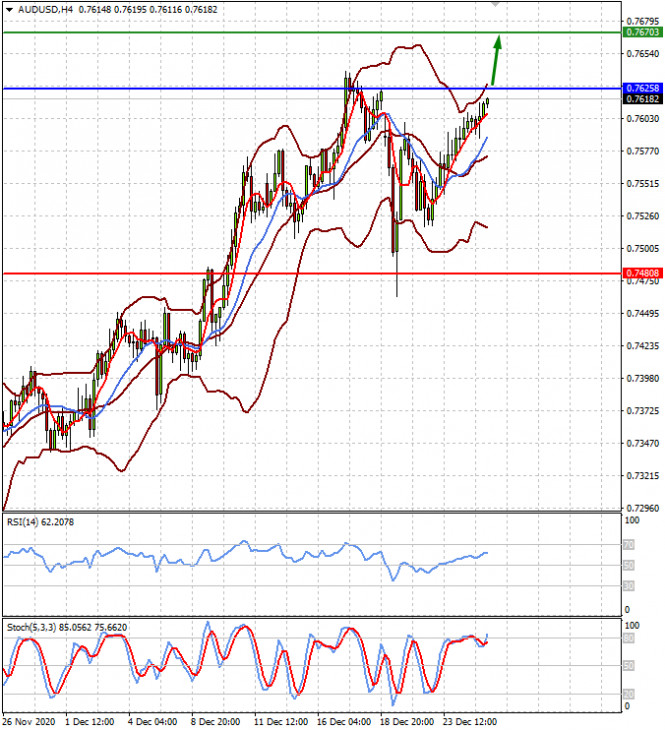 The material has been provided by InstaForex Company -
www.instaforex.com