GBP/USD
Analysis:
The last section of the trend of the British pound sterling counts down from September 10. In its structure, an intermediate correction was completed a week ago, in the form of a stretched plane. On December 21, a new wave of the main course started.
Forecast:
Today, in the first half of the day, a flat with a general downward vector is most likely. At the end of the day, the exchange rate is expected to change in the area of settlement support and return to the bullish trend.
Potential reversal zones
Resistance:
- 1.3610/1.3630
Support:
- 1.3510/1.3480
Recommendations:
Selling the pound today is possible, however, it is worth considering the limited potential for decline. It is safer to refrain from entering the market during the correction and look for buy signals in the support area.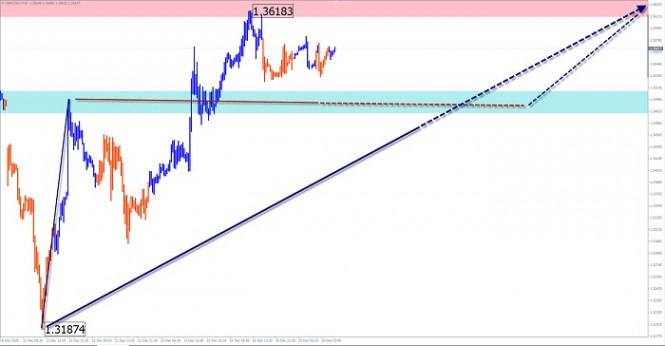 USD/JPY
Analysis:
The direction of the short-term trend of the Japanese yen is set by the descending algorithm of November 9. The last unfinished section has been reporting since December 21. In the structure of this wave, the middle part (B) is formed.
Forecast:
During the next sessions, the correction phase of the movement is expected to be fully completed. In the second half of the day, you can expect a reversal and a return to the downward rate. The upper limit of the support zone shows the probable potential of the daily movement down.
Potential reversal zones
Resistance:
- 103.70/104.00
Support:
- 103.10/102.80
Recommendations:
There are no conditions for purchases today. It is recommended to look for signals for selling the instrument in the area of the calculated resistance.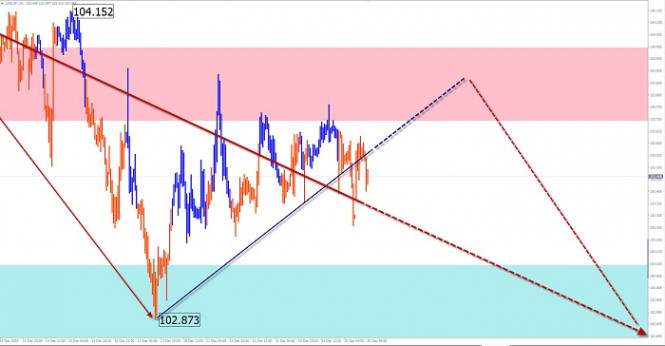 USD/CHF
Analysis:
The direction of the Swiss franc trend since March is set by the daily-scale descending wave algorithm. The last segment has been reporting since November 11. It has been forming an intermediate correction for the entire past month.
Forecast:
In the next day, it is expected to complete the upward course of the movement, turn around and return to the bearish rate. If the direction changes, an increase in volatility is not excluded, with a short-term puncture of the upper limit of the calculated resistance.
Potential reversal zones
Resistance:
- 0.8920/0.8950
Support:
- 0.8850/0.8820
Recommendations:
Purchases of the franc today can be unprofitable. It is recommended to track reversal signals at the end of the current rise to enter short positions.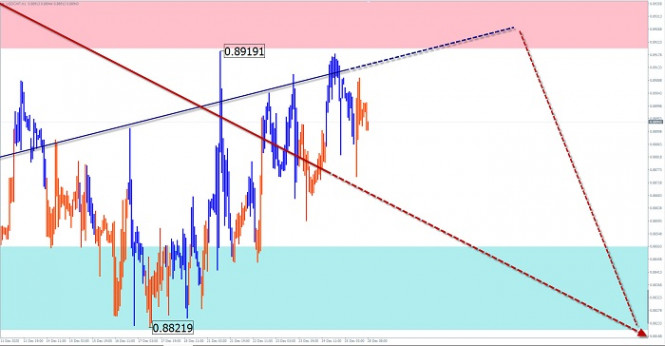 Explanation: In the simplified wave analysis (UVA), waves consist of 3 parts (A-B-C). The last incomplete wave is analyzed. The solid background of the arrows shows the formed structure, and the dotted one shows the expected movements.
Attention: The wave algorithm does not take into account the duration of the instrument's movements in time!
The material has been provided by InstaForex Company -
www.instaforex.com