4-hour timeframe
Technical details:
Higher linear regression channel: direction - upward.
Lower linear regression channel: direction - downward.
Moving average (20; smoothed) - sideways.
CCI: 23.8095
As we have already mentioned in articles over the weekend, the euro/dollar currency pair has been trading in a relatively narrow trading range in recent weeks, which can be called flat. At the moment, the pair is trading just below the moving average line, however, in flat conditions, this location does not have any special significance. Traders continue to ignore the macroeconomic background, and there have been few fundamental events in recent days or even weeks. We are even a little surprised by this fact since most of the interesting topics seem to be put on pause now. China and the United States have stopped verbal sparring, and Washington has stopped daily accusing Beijing and making unsubstantiated statements about the alleged evidence of its guilt in the spread of the COVID-2019 virus. Dr. Anthony Fauci, after a long pause, finally went on the air, only to say that the current incidence of coronavirus was "terrible". Meanwhile, there were 55,000 new cases recorded in the United States yesterday, which Donald Trump immediately explained with an already proven argument. "The number of coronavirus cases is growing because our testing is so massive and so good, much bigger and better than in any other country. This is great news, but the even better news is that deaths and death rates are declining," Trump wrote on Twitter. However, it does not matter to the economy why the number of cases of "coronavirus" is growing. Earlier, we wrote that in several states, public institutions and some places of potential congestion of large numbers of people have been closed again. The latest information related to the state of Florida, where a curfew was imposed. The state of Arkansas has made it mandatory to wear masks in all public places. Seven states reported a record number of new cases over the weekend. Thus, the economy may start to slow down again. After all, the economy is not only about industrial production and trade with other countries. The economy is also about ordinary people, ordinary citizens who go (or don't go) to work, visit (or don't visit) public institutions, cinemas, restaurants, sports clubs, and more. If the country's anti-disease records are updated daily, how many Americans will want to lead an active social life? Thus, even if the new lockdown is not introduced, even if the White House does not tighten the quarantine measures, it will not have a particularly positive impact on the economy, because most Americans will continue to avoid public places.
However, many periodicals and experts note that the November elections are now on the agenda for the American President. It seems that the original plan of Donald Trump has already failed. We believe that the American President wanted to restore the country's economy as quickly and fully as possible before November, to once again have excellent arguments in his favor before the voters. However, realizing the utopian nature of this idea, he seems to have abandoned it. It is unlikely that the US economy will recover to pre-crisis values in a few months. But Trump may try to use the "coronavirus" precisely to prevent his main rival, Joe Biden, from winning the election. In general, it seems that future elections will be the most absurd in the history of the United States. After all, the Governor of each state can impose or cancel quarantine restrictions. Thus, "foul play" may occur in many states. It may look something like this. There are so-called "contested states" - states that fluctuate between Biden and Trump. In such disputed states with Democratic governors, there may be restrictions on access to polling stations in those cities where Trump is most likely to win. And vice versa. That is, Biden and Trump may try to influence the election results by restricting voter access to those precincts where it is obvious that a competitor will win. Thus, "coronavirus" can now be used for political purposes. Easier scenarios are also possible. For example, there will be no direct restriction on access to polling stations, but in some places, there may be a new quarantine or a warning that there is a new outbreak, which will greatly reduce the desire of many Americans to leave their homes. It has also long been rumored that Donald Trump opposes voting by mail, believing that this way he will lose part of his electorate. Biden, however, seems to support this method of voting. But why? Because he doesn't want a mass gathering of Americans across the country or because he believes that Donald Trump is right? Also, there are fantastic options. Fantastic for any President other than Trump. For example, it is possible that "election fraud" may be declared after the vote has been counted. The President of the United States has the right to make such a statement and initiate an investigation. The investigation, which will be dragged out by the Republicans with all their might, can drag on for several months, as in the time of impeachment. Thus, until December 14 (the date when all states must appoint their representatives to the board), electors from "swing states" currently controlled by Republicans will not be approved. Accordingly, the Democrats may lose a certain part of the vote, and they will try to challenge this in the Supreme Court. But the Court can also redirect the case to the US Congress, where its Upper House is controlled by Republicans, who will block any attempts by Democrats to win the case. One thing is certain - Donald Trump will not leave the White House voluntarily, even if he loses the election.
On Monday, July 6, the European Union will publish the retail sales figure for May. This indicator is expected to decrease again, by 15% monthly and by 7.5% on an annual basis. In the United States, the service sector business activity indices for June according to Markit and ISM versions are scheduled for today, with forecasts of 46.7 and 49.5. However, given the fact that market participants continue to ignore most of the macroeconomic information, we believe that this data will have a very indirect impact on the course of trading. Plus, Monday trading can be boring and inactive in itself. Thus, we do not expect the flat to end tomorrow.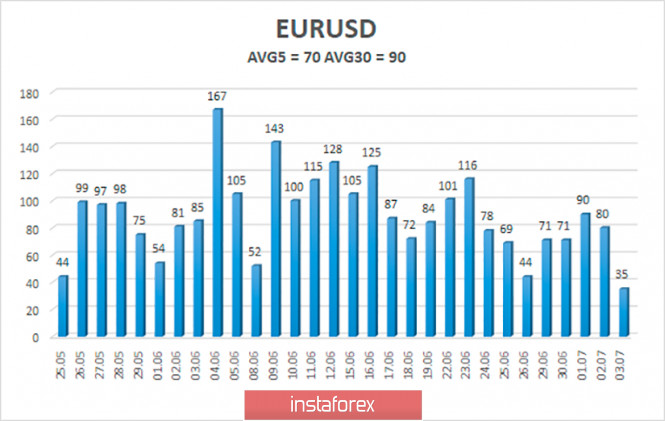 The average volatility of the euro/dollar currency pair as of July 5 is 70 points and is characterized as "average", but in general, it continues to decline. We expect the pair to move between the levels of 1.1175 and 1.1315 today. A new turn of the Heiken Ashi indicator upward will signal a new round of upward movement so far within the side channel.
Nearest support levels:
S1 – 1.1230
S2 – 1.1108
S3 – 1.0986
Nearest resistance levels:
R1 – 1.1353
R2 – 1.1475
R3 – 1.1597
Trading recommendations:
The EUR/USD pair continues to trade near the moving average line, inside the side channel. Thus, at this time, it is recommended to trade down if traders manage to overcome the level of 1.1175, which is the approximate lower limit of the channel, with the goals of 1.1108 and 1.0986. It is recommended to open buy orders not earlier than the Murray level "5/8"-1.1353 with a target of 1.1475.
The material has been provided by InstaForex Company -
www.instaforex.com