The very good data on US employment published on Thursday not only had a noticeable local impact on the US dollar, which fell to major currencies over the week, but also inspired stock markets, allowing major US, European and Asian stock indices to finish the week in positive note as well as oil quotes of the two main brands Brent and WTI.
So why are investors so optimistic about America's strong employment data? And why have the growth of markets and the weakening of the dollar been limited?
In our opinion, the reasons remain the same. This is the uncertainty of how the situation around the coronavirus pandemic will develop and, as a result, the ability of economically developed countries to further expand economic activity and rebuild their economies.
Of course, the incoming economic data from China, the USA and Germany, as the leader of continental Europe, indicate that the process of recovery of national economies continues to grow. This is the most important factor that stimulates the growth of demand for risky assets, supports crude oil prices and puts pressure on the US dollar. But the spells of WHO (World Health Organization) that the risks of the second wave of the pandemic are extremely high, the surge in the number of people infected in the United States amid social unrest and chaos caused by robberies and killings force investors to be vigilant, despite the logic of buying shares in companies in the wake of the recovery process.
Global markets continue to move very cautiously. Positive news and rumors push the value of assets up, but the return of the negative again almost levels everything.
A similar picture is observed in the currency market. Over the past four weeks, major currency pairs have consolidated in fairly narrow ranges and only the yen and the franc managed to grow against the dollar. However, the currencies of emerging economies were under attack. This is due to the outflow of capital from EM.
We expect that the beginning of the week will most likely show the same dynamics as in the past week, while the factor of COVID-19 will hang over the markets.
Forecast of the day:
The AUD/USD is trading below a strong resistance level. Positive dynamics in Asia pushes commodity currencies to growth. Breaking through the price level of 0.6975 will lead to a growth in the pair to the level of 0.7040.
The NZD/USD pair is also growing, approaching a strong resistance level of 0.6560, breaking through which, in the wake of positive moods in the Asia-Pacific region, will lead to a growth in the pair to the level of 0.6655.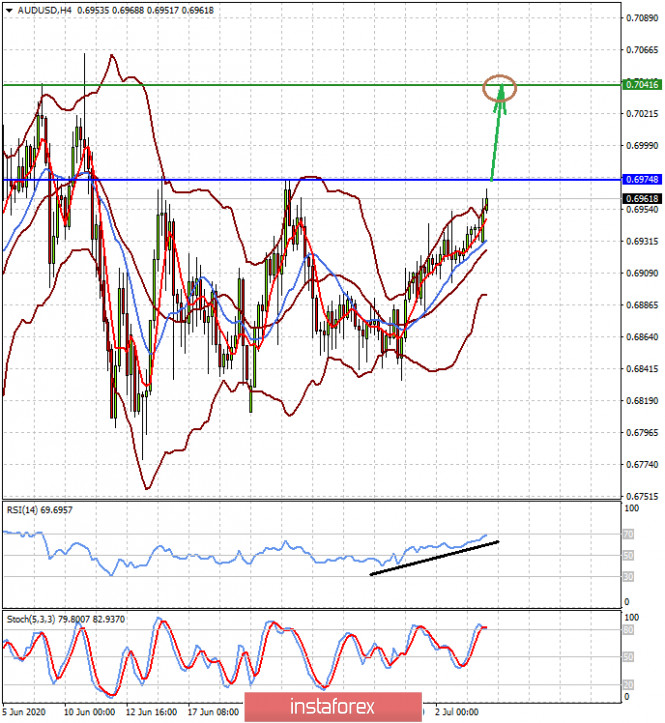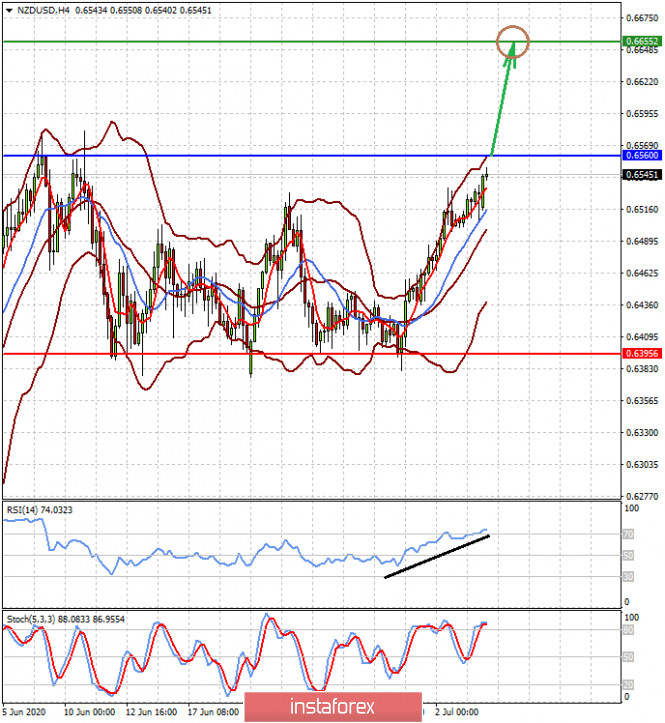 The material has been provided by InstaForex Company -
www.instaforex.com