EUR/USD. 1H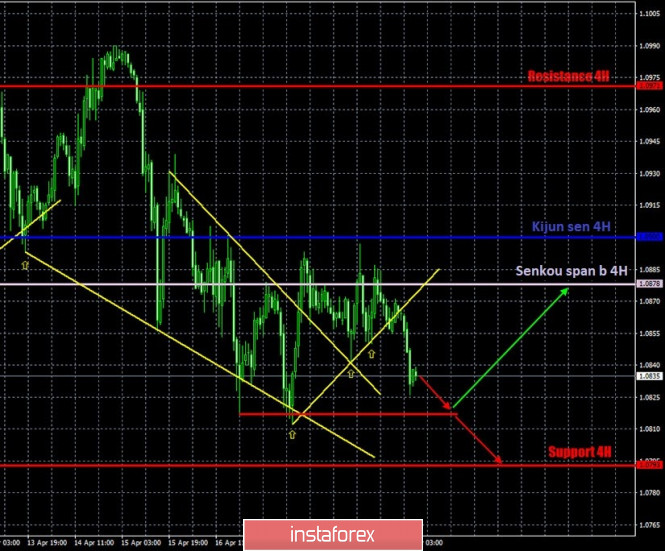 The euro/dollar pair performed several rebounds from the Senkou span b line on the hourly chart, which is a very strong resistance. An upward trend line that was not that strong was built yesterday, which the EUR/USD pair successfully overcame at night. In general, trading was very active, so after overcoming the trend line, the US dollar has already risen by 40 points. In general, at this time, it is impossible to say that the US dollar is in demand among traders. Moreover, both the euro and the pound can now move in the side channels on 4-hour timeframes. A move upwards could follow in the 1.0814 area with further movement to the Senkou Span b line. Based on the foregoing, we have two trading ideas for April 21:
1) We expect quotes to fall, at least, to the 1.0817 area, from which there have already been rebounds. Thus, those traders who are in shorts can remain in them for this purpose. In case you overcome this level of sales, it is advised to remain with the target of 1.0793.
2) It is very likely for quotes to rebound from 1.0817. If it happens, then the hypothesis of a sideways movement on the 4-hour timeframe will become more real. Therefore, in this case, traders are advised to buy the euro with the goal of the Senkou span b line (1.0878). The potential to take profit in this case will be around 60 points.
GBP/USD 1H.
The GBP/USD currency pair continues its downward movement and was unable to complete another rebound from the support line, which runs at 1.2416. The Senkou span b line of the Ichimoku indicator did not deter the pair from further downward movement. This morning, the pound/dollar pair also managed to work out the first support level for the 4-hour timeframe at 1.2388. Thus, the current intraday picture suggests the following trading ideas:
1) Overcoming the support level of 1.2388 could provoke the pound to fall further. In this case, we can ascertain that three important supports can be overcome at once - the support line of 1.2416, the support level of 1.2388 and the Senkou Span B line at 1.2405. Thus, we advise you to sell the pair while aiming for 1.2276 in this case.
2) If the first support level of 1.2388 is not reached, this will mean that the pair is not ready to continue the downward movement. In this case, we advise traders to wait for quotes to close above the downward trend line (yellow) and open buy orders with the target Kijun-sen line at 1.2525.
We highlight the release of data from the UK among the important macroeconomic events today, among which the report on applications for unemployment benefits will stand out. Although in general we believe that traders will continue to ignore the macroeconomic background.
The material has been provided by InstaForex Company -
www.instaforex.com