AUD/USD
China's trade balance data for February came out on Saturday. China's exports fell by 17.2% y/y, imports contracted by 4.0%, and the total balance amounted to -7.09 billion dollars as against 24.6 billion and 46.8 billion dollars expected in December. But despite such an impressive drop, the data alone, without their correlation with other economic parameters, should not cause panic. The Chinese economy is characterized by recessions in January-February; the negative balance was in March 2018, in February 2017, in February 2014, in February 2013, in February 2011, etc. But investors believe that subsequent Chinese data will be very negative. From the first minutes of the opening of the Chinese market on Monday, the China A50 stock index lost 2.57%.
The Australian Volatility Index ASX200 (VIX) rose to its highest level since 2012, when the European debt crisis was raging with the collapse of the oldest banks in Spain and Cyprus. The Australian stock market (S&P/ASX 200) fell 6.19% today. Yields on Australian bonds from 3-year-olds to 30-year-olds fell to record lows on Monday: for 3-year bonds, the yield reached 0.326%, for 10-year bonds 0.550%.
The Australian dollar experienced a crushing collapse of 320 points. After a few minutes, the price won back an 80% drop. But the further goal of the movement is nevertheless supporting the embedded line of the price channel in the region of 0.6230.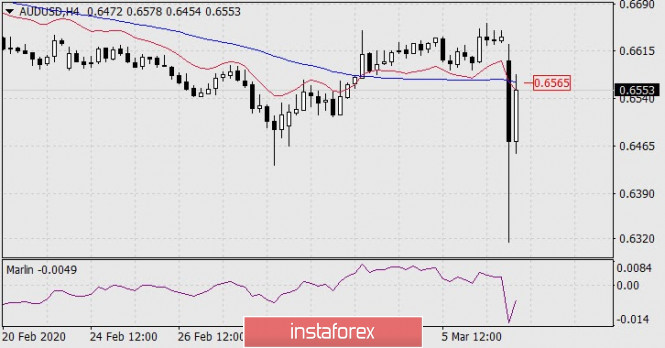 On the four-hour chart, the MACD indicator line now acts as resistance at 0.6565. The release of the price above it will mean the aussie's intention to close the morning gap. But then we expect the price to fall to the designated target of 0.6230, only at a slower rate.
The material has been provided by InstaForex Company -
www.instaforex.com