To open long positions on GBP/USD you need:
The British pound opened a gap up and continues to strengthen against the US dollar amid the spread of the coronavirus. However, it is worth noting that the pound's growth is fully associated with the weakness of the US dollar, since the UK has enough of its political problems in the face of the start of trade negotiations with the EU. At the moment, the bulls' task is to keep the pair above the level of 1.3062, where the formation of a false breakout will be a signal to open long positions in the expectation of continued growth. However, only a breakthrough and consolidation above resistance 1.3104 will open the direct path of GBP/USD to the area of new highs 1.3133 and 1.3163, where I recommend taking profits. If a breakout of support 1.3062 takes place in the first half of the day, then it is best to look at long positions after updating the lows of 1.3030 and on the rebound from support 1.2996, where the moving average also goes.
To open short positions on GBP/USD you need:
There are enough disagreements in the negotiations between the EU and the US, so you should not expect the pound to sharply grow without an escalation of the situation with coronavirus. The formation of a false breakout in the resistance area of 1.3104 will be the first signal to open short positions in the pound, and if there are no major players there, it is best to postpone sales until the highs of 1.3133 and 1.3163 are updated, where GBP/USD can be sold immediately for a rebound. An important goal of the bears will be to return the support of 1.3062 to themselves, which will necessarily lead to the overlap of the Asian gap and an update of the low of 1.3030. However, the 1.2996 area will be a more distant goal, where I recommend taking profits. It is in this range that the pound will regain market equilibrium, and the lower boundary of the side channel will be formed there.
Signals of indicators:
Moving averages
Trading is conducted above 30 and 50 moving average, which indicates the continuation of the upward trend.
Bollinger bands
A break of the upper boundary of the indicator in the region of 1.3104 will lead to a new wave of pound growth. Under the scenario of decline, support will be provided by the average boundary at 1.3020, and you can buy the pound for a rebound from the lower boundary at 1.2970.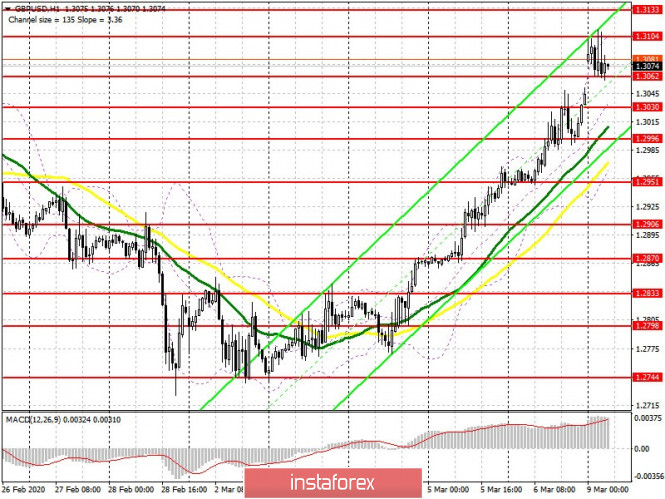 Description of indicators
Moving average (moving average determines the current trend by smoothing out volatility and noise). Period 50. The graph is marked in yellow.
Moving average (moving average determines the current trend by smoothing out volatility and noise). Period 30. The graph is marked in green.
MACD indicator (Moving Average Convergence / Divergence - Moving Average Convergence / Divergence) Fast EMA period 12. Slow EMA period 26. SMA period 9
Bollinger Bands (Bollinger Bands). Period 20
The material has been provided by InstaForex Company -
www.instaforex.com