4-hour timeframe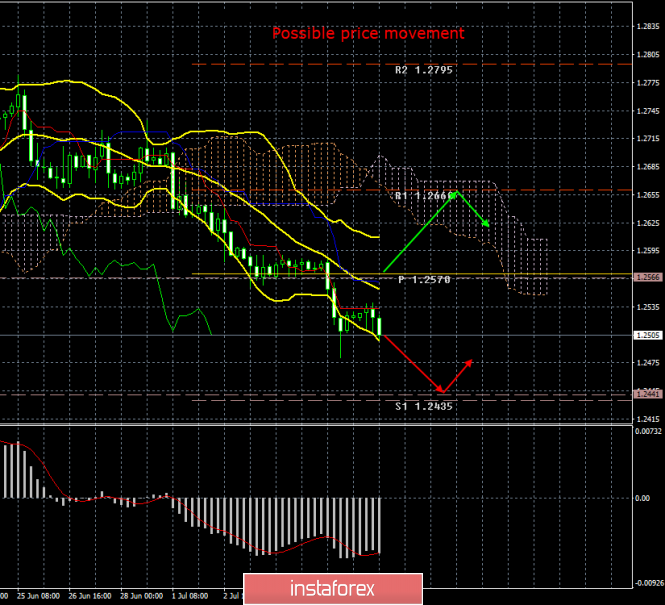 The amplitude of the last 5 days (high-low): 74p - 64p - 43p - 25p - 107p.
Average amplitude for the last 5 days: 63p (56p).
The British pound sterling collapsed on Friday, July 5, down, just like the euro, after the publication of US NonFarm Payrolls. However, it spent Monday in a fairly calm way, since no important news and reports on this day came from either the UK or the United States. Thus, it is possible to state a fact: a correction has begun, which so far has lateral status. Meanwhile, Boris Johnson intensely announced the hard scenario of Brexit, even though he has not yet become the country's prime minister. It is quite possible that this is a strategy of pressure on the European Union, which does not wish to conduct new negotiations on the terms of Brexit. It is unknown whether this card will play Johnson, but the pound in any case is not particularly responsive to all these campaign promises and events around Brexit, which is tightly put on pause. The nearest important date for the pound is in July 23. Not even for the pound, but for the UK, because on this day, in theory, the new leader of both the Conservatives and the country should be named. The date of the UK's exit from the European Union is on October 31st. A new release date. At this time, the impact of Brexit on the pound sterling is minimal.
Trading recommendations:
The pound/dollar currency pair has begun a side correction. Thus, traders are advised to wait until it is completed and re-sell the pound sterling with a target at the first support level of 1.2435.
It will be possible to buy the British currency no earlier than when the pair consolidates above the critical line. In this case, the bulls will get a small chance to form an upward trend.
In addition to the technical picture should also take into account the fundamental data and the time of their release.
Explanation of the illustration:
Ichimoku indicator:
Tenkan-sen - the red line.
Kijun-sen - the blue line.
Senkou Span A - light brown dotted line.
Senkou Span B - light purple dotted line.
Chikou Span - green line.
Bollinger Bands indicator:
3 yellow lines.
MACD Indicator:
Red line and histogram with white bars in the indicator window.
The material has been provided by InstaForex Company -
www.instaforex.com