4-hour timeframe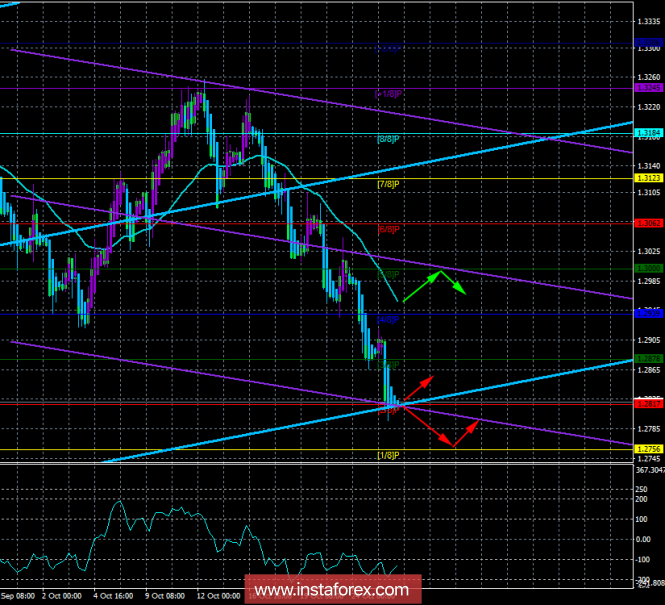 Technical details:
The senior linear regression channel: direction - up.
The younger linear regression channel: direction - down.
Moving average (20; smoothed) - down.
CCI: -129.4734
The currency pair GBP / USD yesterday during the day collapsed with a new force. The ECB meeting and the comments of Mario Draghi to the UK and the pound did not apply. Nevertheless, at the same time as the euro, the British pound went to the next downward rally. That is why we believe that the reason for the fall of the euro was not in the reports of the ECB, and not in Italy. The main reason, which continues to put pressure on the euro and the pound, remains Brexit. With a pound sterling, everything is clear. The whole range of political and economic problems, the possible resignation of Theresa May and the lack of progress in the Brexit negotiations do not give traders any reason to buy British currency. Thus, it remains to be content with only corrections. The most interesting thing is just ahead. First, it is unclear how the whole story will end with the resignation of Theresa May. If this happens, the pound may even grow on the expectations that the next prime minister will be more productive in negotiations with the EU. Secondly, one way or another, the Kingdom will leave the EU on March 29, 2019, with or without a "deal". Even with a "deal" there will be economic consequences of a negative nature, and without a "deal" everything will be even worse. Thus, it is already possible to assume that if this whole situation does not change drastically in the coming months, then the prospects for the pound sterling for the next year will not be very bright.
Nearest support levels:
S1 - 1,2817
S2 - 1.2756
S3 - 1.2695
Nearest resistance levels:
R1 - 1.2878
R2 - 1.2939
R3 - 1.3000
Trading recommendations:
The currency pair GBP / USD has completed the level of 1.2817, from which it can rebound and begin a correction. If overcoming the target occurs, the short positions will remain relevant for the purpose of 1.2756.
Long positions can be considered after the bulls overcome the moving averages, which is unlikely to happen in the near future, as the price is far enough away from it. Tool corrections are now too weak, they are not recommended to work out.
In addition to the technical picture should also take into account the fundamental data and the time of their release.
Explanations for illustrations:
The senior linear regression channel is the blue lines of the unidirectional movement.
The junior linear channel is the purple lines of unidirectional movement.
CCI is the blue line in the indicator regression window.
The moving average (20; smoothed) is the blue line on the price chart.
Murray levels - multi-colored horizontal stripes.
Heikin Ashi is an indicator that colors bars in blue or purple.
The material has been provided by InstaForex Company -
www.instaforex.com