To open long positions on GBP / USD, you need:
Pound buyers failed to get above the resistance level of 1.2829, which I paid attention to in the morning forecast, which led to further selling of the pound. Now, a serious divergence is forming on the MACD indicator, so it is possible to consider purchases after forming a false breakdown at the support level of 1.2782, but it is important to wait for the release of the report on the American economy, which will set the direction for the pair in the afternoon. In the case of a break of 1.2782, it is best to return to long positions to rebound from the lows of 1.2733 and 1.2697.
To open short positions on GBP / USD, you need:
Bears formed a false breakdown in the resistance area of 1.2829, which led to the further sale of the pound. The breakthrough of support at 1.2782, amid good statistics on US GDP, will lead to a new downward wave in GBP / USD with an update of the lows of 1.2733 and 1.2697, where I recommend fixing the profits. In the case of growth above 1.2829 in the second half of the day, it is possible to count on short positions after updating the larger resistance of 1.2866. However, before selling a pound below 1.2782, make sure that the divergence on the MACD indicator is broken.
Indicator signals:
Moving Averages
Trade is conducted under the 30- and 50-day average, which indicates the formation of a downtrend on the pound.
Bollinger bands
The upper limit of the Bollinger Bands indicator around 1.2829 limits the upward potential, and the breakdown of the lower border around 1.2782 will increase the pressure on the pound.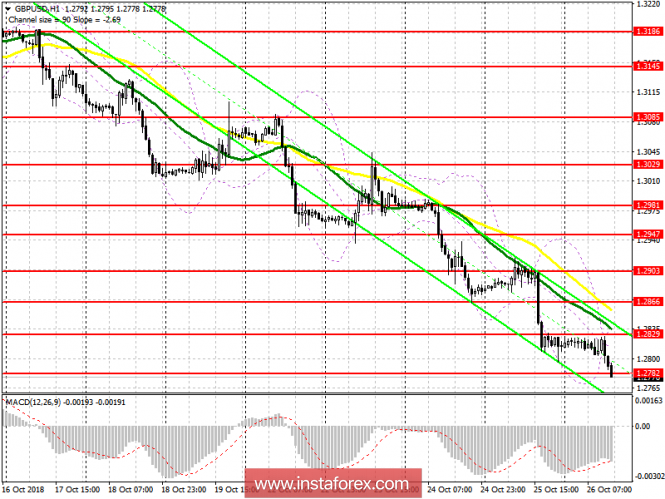 Description of indicators
MA (moving average) 50 days - yellow
MA (moving average) 30 days - green
MACD: fast EMA 12, slow EMA 26, SMA 9
Bollinger Bands 20
The material has been provided by InstaForex Company -
www.instaforex.com