The euro fell today against the background of weak fundamental statistics, which did not allow buyers to return to the market and collapsed risky assets to the new monthly minimums. The slowdown in the growth of the German economy amid a reduction in exports of goods in August of this year could hit the European currency in the future even more.
According to the Federal Bureau of Statistics of Germany, exports of goods in August declined by 0.1% compared with the previous month, while imports decreased by 2.7%. The overall surplus of Germany's foreign trade in August rose to 18.3 billion euros, while experts expected a balance of 19.0 billion euros.cy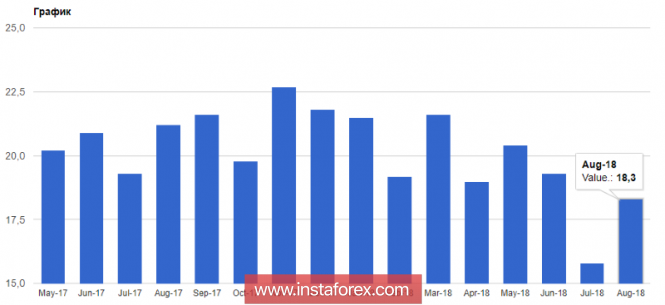 The optimism of small business owners in the United States remains at its peak. According to the National Federation of Independent Business NFIB, the small business optimism index in September was at the level of 107.9 points, whereas in September last year, the figure was 103 points. Compared with August, the index fell slightly from a mark of 108.8 points. The NFIB said that the prospects remain bright as the business flourishes.
Today, a forecast from the International Monetary Fund was published, which also had a negative impact on the European currency.
According to the data, the IMF lowered its forecasts for global economic growth for 2018, citing protectionist measures and volatility in emerging markets. The IMF is now forecasting a growth of the global economy this year at 3.7%, whereas in April of this year growth was expected at 3.9%. With regard to the forecast for the growth of the US economy, it is expected to 2.9% year on year.
As for the technical picture of the EUR / USD currency pair, the downward trend remains, although a surge in volume after the renewal of weekly lows is noticeable, which can lead to an upward correction in the short term. However, for this, it is necessary to return to the resistance level of 1.1500.
The British pound today fell against the US dollar after the publication of the report of the Financial Policy Committee of the Bank of England, which again identified the risks associated with Brexit.
As stated in the statement, the UK banking system is strong enough to withstand the consequences of Brexit, and currently, no additional capital buffer is required for British banks in the case of the toughest scenario. The Bank of England also called on EU politicians to take action to prevent Brexit from undermining the derivatives markets, since inaction would be costly for EU companies.
The material has been provided by InstaForex Company -
www.instaforex.com