4-hour timeframe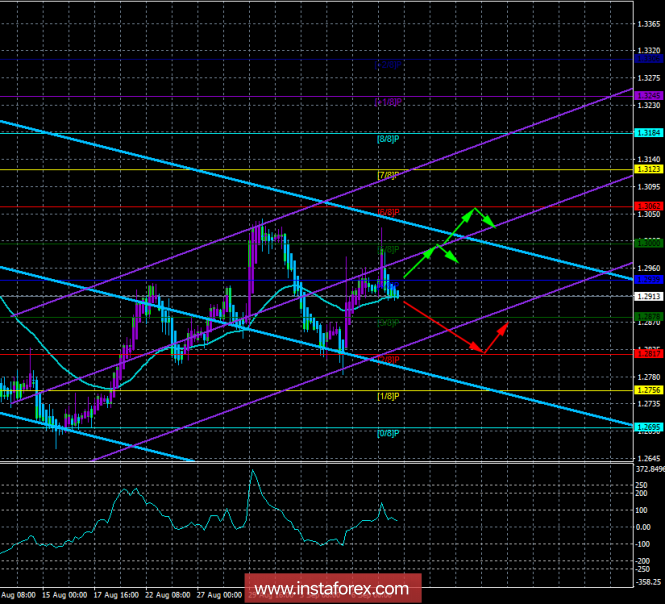 Technical data:
Higher channel of linear regression: direction - down.
The lower channel of linear regression.
Moving average (20; flattened) - sideways.
CCI: 35.0518
On Friday, September 7, the GBP/USD currency pair continued to grow quite unexpectedly because of the strong US macroeconomic statistics supported by the dollar, but not paired with the British pound. There is no important and interesting reports from the UK itself received on this day, thus, it is difficult to explain why the pound sterling continued to grow. Nevertheless, we believe that this is temporary and incidental. Today or tomorrow, a downward movement in the pair may resume. Especially in the background of the speech of the former British Foreign Secretary Boris Johnson. Johnson criticized the negotiations with the EU, calling London's position extremely weak. According to Johnson, London has already made significant concessions to Brussels but the EU continues to squeeze out its Brexit plan and does not want to make concessions to Britain. Johnson compares Britain to a "frail creature" who is angry with a gorilla that surpasses him in strength. Furthermore, he believes that all conditions for political blackmail have been created, Britain has been dressed in a suicide belt and the detonator was awarded to Michel Barnier (the main negotiator from the EU). In general, the criticism of the negotiations between Theresa May and the EU continues. There are a lot of people who are dissatisfied, and the parties cannot reach an agreement on the key issues. Against this background, the pound sterling may resume the downward rally.
Nearest support levels:
S1 - 1.2878
S2 = 1.2817
S3 = 1.2756
Nearest resistance levels:
R1 = 1.2939
R2 1.3000
R3 = 1.3062
Trading recommendations:
The GBP/USD is slightly below again the 1.2939 level and slightly above the moving average. Officially, the long lines with a target of 1.3000 remain relevant for today. But for it is required to wait for Heiken Ashi upward reversal and the price rebound from the Moving Average.
Selling orders can be opened if traders manage to overcome the moving average, which is more likely to happen. In this case, the first target for the downward movement will be the Murray level "2/8" - 1.2817.
In addition to the technical picture, one should also take into account the fundamental data and the time of their release.
Explanations for illustrations:
The senior channel of linear regression is the blue lines of unidirectional motion.
The lower channel is linear-violet lines of unidirectional motion.
CCI - the blue line in the regression window of the indicator.
Moving average (20; smoothed) - the blue line on the price chart.
Murray Levels - multi-colored horizontal stripes.
Heiken Ashi is an indicator that color bars in blue or purple.
* The presented market analysis is informative and does not constitute a guide to the transaction.
The material has been provided by InstaForex Company -
www.instaforex.com