4-hour timeframe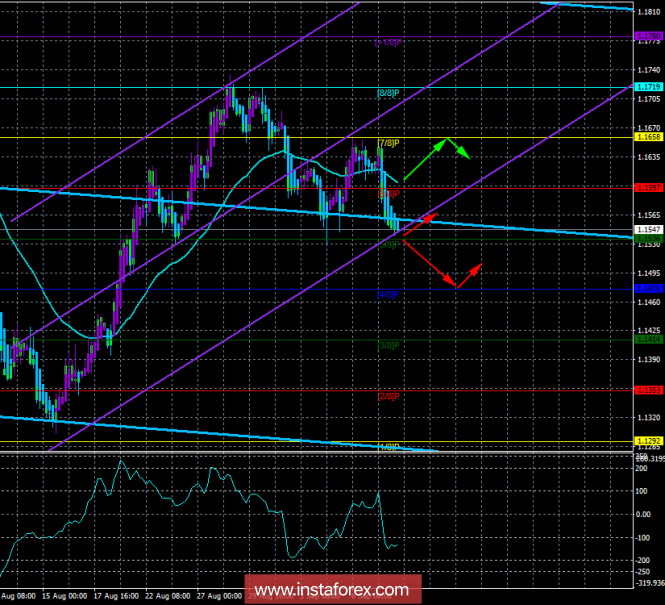 Technical data:
The senior channel of linear regression: direction - down.
The younger channel of linear regression: the direction is up.
Moving average (20, smoothed) - down.
СCI: -136.9151
The currency pair EUR / USD on September 7 was fixed below the moving average line and resumed, thus, the downward movement, as we predicted. Positions of the US dollar, at least against the euro, remain strong, and demand for the US currency may again increase. On Friday, the US currency also received support in the form of strong macroeconomic reports on unemployment, the number of new jobs created outside the agricultural sector and the level of wages. All three reports were better than market expectations. In addition, as we have already said, the demand for the dollar does not dry up in the medium term due to the expectations of traders for further improving the economic situation in the US thanks to the new trade policy of Trump. Simply put, market participants believe that the policy of imposing trade duties against all trading partners in order to obtain new, more favorable conditions for the US sooner or later will bring good results. While the US trade balance is only more deficit. But this does not prevent traders from continuing to believe in the best. Thus, the dollar pushes up now only the market's faith in the strength of the States and their leader. Eurocurrency, however, has nothing to oppose the dollar now. The monetary policy of the ECB remains soft, and if Trump again begins to put pressure on the EU through threats of imposing trade duties, then monetary policy can remain soft for a long time. There is no question of raising rates in the coming year.
Nearest support levels:
S1 - 1.1536
S2 - 1.1475
S3 - 1,1414
Nearest resistance levels:
R1 = 1.1597
R2 = 1.1658
R3 = 1.1719
Trading recommendations:
The currency pair EUR / USD has overcome the moving and has almost completed the level of 1.1536. If there is no rebound from the first target, then the pair will continue to move downwards with the target of 1.1475, which is recommended to be worked out, as there are no signs of starting correction today.
The open long position is recommended if the pair can return to the area above the moving average line, which will mean a change of trend again to the upward. The goal, in this case, will be the level of Murray 1.1658.
In addition to the technical picture, one should also take into account the fundamental data and the time of their release.
Explanations for illustrations:
The upper channel of linear regression is the blue lines of unidirectional motion.
The lowest linear regression channel is the violet lines of unidirectional motion.
CCI - the blue line in the indicator window.
Moving average (20; smoothed) - the blue line on the price chart.
Levels of Murray - multi-colored horizontal stripes.
Heikin Ashi is an indicator that color bars in blue or purple.
The material has been provided by InstaForex Company -
www.instaforex.com