4-hour timeframe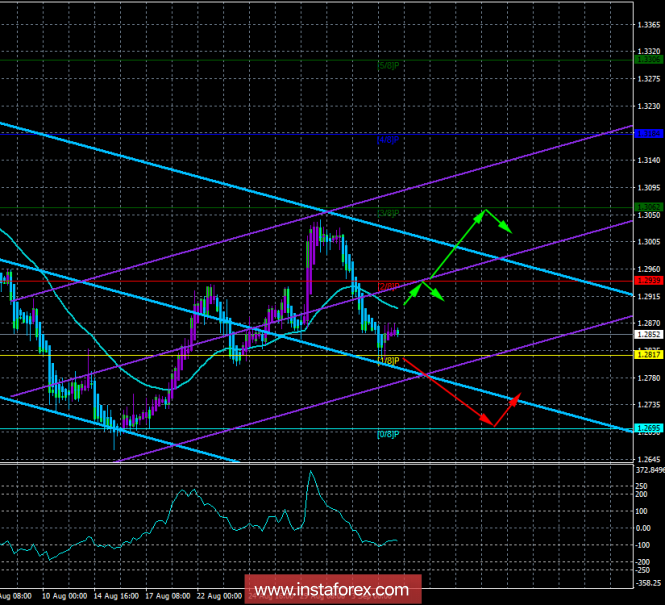 Technical data:
The senior channel of linear regression: direction - down.
The younger channel of linear regression: the direction is up.
Moving average (20, smoothed) - down.
CCI: -86.4213
The GBP / USD currency pair worked perfectly the level of Murray "1/8", after which it was completely corrected. But we are already accustomed to these minimal corrections of the pound sterling. Yesterday, there was information that Mark Carney would not leave, as he had assumed earlier, the chair of the Bank of England until the end of the Brexit procedure. It would seem that this is good news, but traders saw this as a negative bell. And in logic, they can not be denied. Once the UK government realizes the seriousness of the Brexit procedure and clearly does not want to change the regulator's head, the situation may well get out of control, and the new manager may worsen, not improve the situation. Moreover, if Carney had left his post, everyone would have immediately remembered the resignations of Boris Johnson and David Davis, the key persons in the Brexit talks. In general, there is no reason to expect the strengthening of the pound sterling. On Wednesday, September 5, in the UK will be published indices of business activity in the services sector and the composite index. Decrease in these indicators or inconsistency with the forecast values may cause a new wave of sales of the British currency. From the States today is expected to report on the balance of foreign trade for July. And although the reaction to this report may not follow, in itself this information will be very interesting in the light of the trade wars of Donald Trump, aimed precisely at reducing the deficit balance.
Nearest support levels:
S1 = 1.2817
S2 - 1.2695
S3 - 1,2573
Nearest resistance levels:
R1 = 1.2939
R2 = 1.3062
R3 = 1.3184
Trading recommendations:
The currency pair GBP / USD has fulfilled the level of 1.2817. If the indicator of Heikin Ashi turns down or the price overcomes the first target, then the bears will continue to sell the pair with the target of 1.2695. In this case, it is recommended to stay in short positions.
Long positions will be considered after the instrument is fixed above the moving average line with targets of 1.2939 and 1.3062. In this case, the initiative will pass into the hands of bulls, but at the moment, this option looks unlikely.
In addition to the technical picture, one should also take into account the fundamental data and the time of their release.
Explanations for illustrations:
The upper channel of linear regression is the blue lines of unidirectional motion.
The junior channel is linear-violet lines of unidirectional motion.
CCI - the blue line in the regression window of the indicator.
Moving average (20; smoothed) - the blue line on the price chart.
Levels of Murray - multi-colored horizontal stripes.
Heikin Ashi is an indicator that color bars in blue or purple.
The material has been provided by InstaForex Company -
www.instaforex.com