The European currency continues to gradually strengthen its positions in tandem with the US dollar against the backdrop of the upward correction that was needed after a serious decline in EUR / USD currency pair last week. The key level, on which the further trend will depend, is now the area of 1.1630, but more about this later.
Yesterday in the afternoon, the data released did not significantly affect the rate of the US dollar.
According to the report of the Federal Reserve System, consumer lending in the US in June this year continued to grow, which will support the American economy in the future.
Thus, unsecured consumer lending grew by 3.14% in June compared to June of the previous year. In monetary terms, the increase was 10.21 billion US dollars compared to the previous month. Economists predicted a loan growth of $ 15 billion. Renewable loans decreased by 0.21% compared to the same period of the previous year.
Loans that do not renew, mainly car loans and student loans, rose by 4.36%.
As for the technical picture of the EUR / USD currency pair, the main task of the buyers today is a confident breakthrough and consolidation above the resistance of 1.1630, from which it will be possible to count on the continuation of the upward correction and the reversal of the downward trend formed last week. Bovine targets will be levels of 1.1660 and 1.1700. In the case of intraday downward correction, buyers will show themselves only after the upgrade of the large support level 1.1580.
Yesterday it became known that the White House once again adopted trade restrictions on Chinese goods. So, the administration of Donald Trump has approved additional duties on Chinese imports of $ 16 billion. The new US import duty on Chinese imports will come into force on August 23 this year.
Meanwhile, today's report on China's trade balance showed how effective the US measures are. According to the data of the Main Customs Administration of China, the positive trade balance of China in July this year fell sharply, with a strong increase in imports.
So, the positive balance of foreign trade in July 2018 was 28.05 billion US dollars against 41.61 billion dollars in June, while economists expected that the surplus would amount to 39.10 billion dollars. Exports of goods in July increased by 12.2% compared to the same period last year, while economists expected that exports will increase by 10%.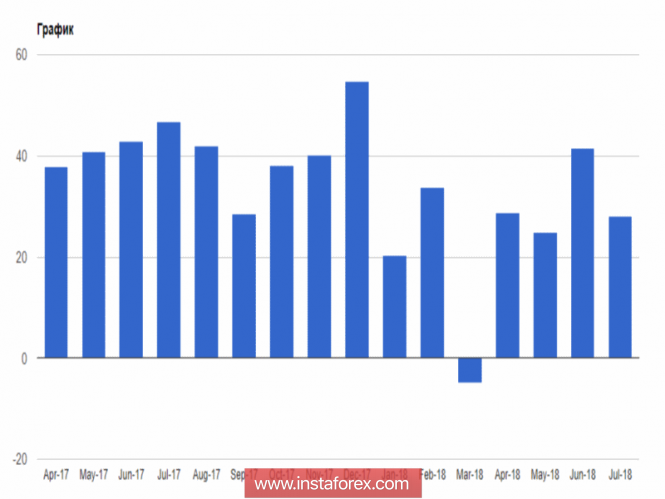 Import increased by 27.3% compared to the same period of the previous year, while economists expected growth of only 15.3%.
The material has been provided by InstaForex Company -
www.instaforex.com