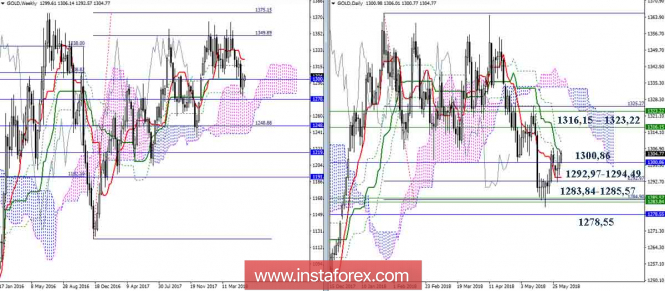 GOLD
Gold, having seized the daily short-term advantage, used daylight Tenkan (1294.49) as support. At the moment, the players on the rise do not give up hopes and efforts to overcome the resistance of the final lines of the day's cross (Kijun 1303.95 + Fibo Kijun 1309.22). The elimination of the day's dead cross and fastening above 1300.86 (weekly Kijun + monthly Tenkan) will allow to consider new upward reference points, the retest of passed levels of the week-long cross 1316.15 - 1323.22 (weekly Tenkan + weekly Fibo Kijun) and daytime cloud. The May closing below the monthly short-term trend (1300.86) and the inability to update this week's maximum (1307.33) this week may serve as the basis for the completion of the upward correction and the return of bearish sentiment aimed at breaking the support 1292.97-1294.49 - 1283.84-1285.57-1278.55.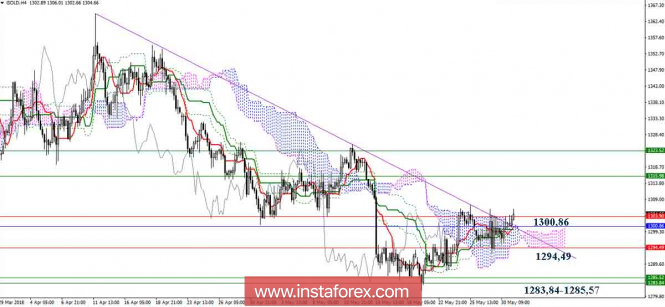 Indicator parameters:
All time intervals 9 - 26 - 52
The color of indicator lines:
Tenkan (short-term trend) - red,
Kijun (medium-term trend) - green,
Fibo Kijun is a green dotted line,
Chinkou is gray,
Clouds: Senkou Span B (SSB, long-term trend) - blue,
Senkou Span A (SSA) - pink.
The color of additional lines:
Support and resistance MN - blue, W1 - green, D1 - red, H4 - pink, H1 - gray,
Horizontal levels (not Ichimoku) - brown,
Trend lines - purple.
The material has been provided by InstaForex Company -
www.instaforex.com