The recent comments from the ECB have helped the EUR / USD to move out of the consolidation zone. EUR/USD is starting to climb higher which started meticulously building expectations ahead of the next week's ECB meeting.
Growths began on Tuesday afternoon after financial media reports that the next week's ECB meeting may be full of heated debate about the future of the asset purchase program (QE). A month ago this information would not mean much, but considering that in the present form the program is set up by the end of September (purchase of 30 billion / month), the decision on what to do next should be taken at one of the previous meetings, probably now in June or in July. However, recent turmoil in the Italian political scene has spurred speculation that it might be better if the ECB did not add reasons for tensions in financial markets and refrained from important decisions until July. Therefore, yesterday's leaks seem to have a verbal intervention that the ECB is not concerned about the events in Italy and does not intend to change its strategy, and even willing to communicate the future of QE sooner than later. One can not resist the impression that the ECB wants to calm the moods around Italian assets, even if this week it is not seen that the tensions "spilled" onto other European markets.
More remarks emerged this morning as the members of the Governing Council Praet and Weidmann reinforced the message. The first one stated that "there are signs showing that inflation is approaching the target ", and in the assessment of the second member, the market expectations of QE completion by the end of 2018" are justified ". This helps the EUR to forget about Italian problems and to pass speculations on the ECB.
Nevertheless, the revelations from the next week's ECB meeting would be an impulse to disperse strong appreciation of the EUR. Suggesting that the QE program will end this year - not suddenly in September, but rather in December - is a scenario that shares the majority of market participants. In order to build strong hawkish expectations regarding the ECB's policy, the global investors would have to hear that the first rate hike is possible in the first half of 2019. Mario Draghi and the company do not have the courage to make such a commitment, and therefore remain only a moderate optimist in assessing the outlook EUR/USD in the short term.
Let's then take a look at the EUR/USD technical picture at the H1 time frame after the comments hit the newswires. The market has broken out of the consolidation zone between the levels of 1.1719 - 1.1726 and made a new higher high around the level of 1.1769. The momentum remains strong and if the bulls will keep buying the local supports, then the next target is seen at the level of 1.1829.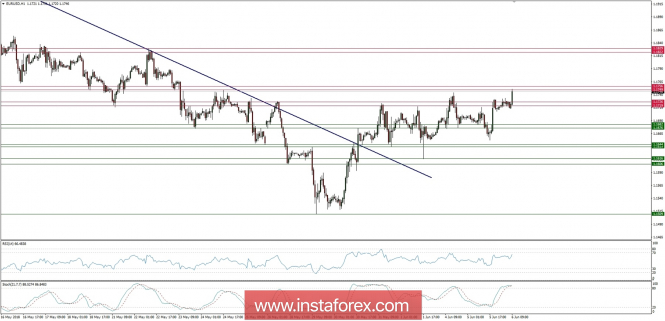 The material has been provided by InstaForex Company -
www.instaforex.com