The report of the Russian rating agency Analytical Credit Rating Agency (ACRA) states that cryptocurrencies are not yet usable as a means of payment. According to them, the cryptocurrency "currently does not fully fulfill any function of money" because the volatility of the exchange rate is too high to be effective as a payment - volatility comparable to fluctuations in food prices. The report also noted that using a crypto does not reduce transaction costs in the economy due to "energy inefficiencies [...], lack of economies of scale in ensuring cyber security and low speed of entries in the [Blockchain] register. All these factors reduce the value of the potential benefit of reducing the number of intermediaries in settlements ". - we can read in the report.
ACRA writes that the comparison of cryptocurrencies with fiat currencies and their intrinsic value emphasizes how the market value of cryptocurrencies is shaped mainly on the basis of investors' expectations ready to sell it in the future at a higher price. Factors that can increase the use of ACRA cryptocurrencies include tightening sanctions in the context of developing foreign policy and external economic tensions.
Last Thursday, during an annual Q&A, held live with the public, the President of Russia Vladimir Putin spoke ambiguously, but mainly negatively about cryptocurrencies. He noted, however, that Russia will investigate how it can use cryptocurrencies to "avoid any restrictions on international financial activity", which could be a reference to avoiding the western sanctions currently imposed on the country.
The ACRA report states that in the future in Russia the use of cryptocurrencies will not become quite common due to: "quite strict approach to regulation by the Central Bank of the Russian Federation, high investment risk, an insufficient number of companies ready to accept payment for their goods and services in cryptocurrencies, [...] and no guarantee of fund security, which is an inherent feature of traditional money". The most important Russian bill on cryptography and Blockchain "On digital financial assets" was almost unanimously approved during the first reading at the end of May in the State Duma. The final version of the legislation on cryptography is to be adopted by 1 July.
Let's now take a look at the Bitcoin technical picture at the H4 time frame. The market did not manage to challenge the technical resistance at the level of $7,890 and after making a local high at the level of $7,752 (Bearish Harami candlestick pattern) the price started to drop, aggressively breaking the local supports at $7,225 and $6,993. The bears have pushed the price to the low at the level of $6,588 and now the market is slowly starting to bounce. Nevertheless, if the level of $6,402 is violated, then the impulsive bullish scenario gets invalidated and the decline will accelerate towards the target level at $5,790.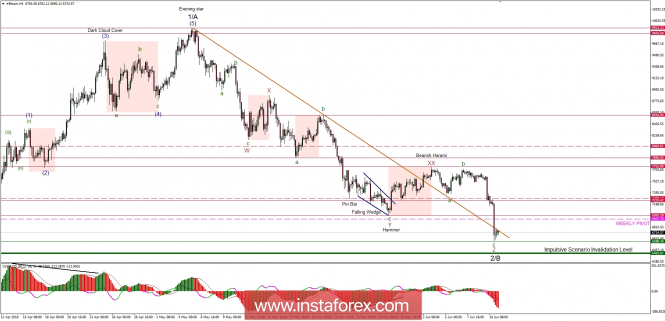 The material has been provided by InstaForex Company -
www.instaforex.com