The European currency managed to regain its position, after a slight decline on Friday, against the backdrop of profit-taking by large players. However, the results of the G7 meeting did not lead to a drastic change in the alignment of forces in the market, which, in fact, were quite expected.
It was not possible to achieve any results in the negotiations, regarding trade relations between the EU and the US. Yesterday, German Chancellor Angela Merkel said that the lack of approval of the final communique of the G-7 summit by US President Donald Trump was a depressing fact. Merkel once again made it clear that Europe will not stand aside and show its weakness in international trade negotiations. However, changes in trade relations, according to the German Chancellor, do not yet mark the end of the Transatlantic Union.
It should be noted that the response package of measures on the part of the EU has already been prepared and will be formally submitted to the WTO on July 1 this year.
The euro is supported by rumors that the European Central Bank is actively discussing the strategy of the progressive curtailment of the program of asset purchases by the end of the year, which will make it possible next year to talk about the first interest rate rises in the eurozone since the 2008 crisis.
Against the backdrop of the lack of important fundamental statistics, political events come to the fore. Now many traders and investors are closely following the summit of the leader of the North Korea Kim Jong-un with US President Donald Trump, which is to be held in Singapore on June 12. Some experts predict a failure of the talks, or a lack of results. Some express an opinion on the likely change in relations and the building of a friendly dialogue for the future.
On Friday in the afternoon, data came out that failed to support the US dollar. According to the report of the US Department of Commerce, stocks in the wholesale sector were replenished at a more moderate pace in April than in March.
Thus, inventories in wholesale trade grew by 0.1% compared to the previous month, while economists expected that the figure would remain unchanged. In March, inventories increased by 0.2%.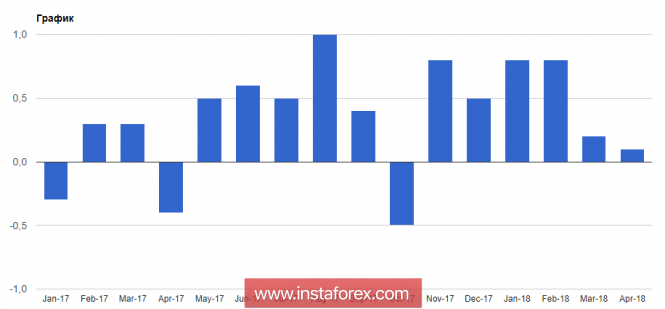 It should be noted that the increase in inventories in the private sector makes a positive contribution to the growth of US GDP. In comparison with April of the previous year inventories in the US wholesale trade increased by 7.8%.
As for the technical picture of the EURUSD pair, the alignment of forces, even after Friday's sharp decline in the euro, did not change. Buyers are still aiming at resistance level 1.1820, the breakthrough of which will resume the upward movement in euro, which will lead to the zone of new highs of the month to large areas of 1.1890 and 1.1930.
The material has been provided by InstaForex Company -
www.instaforex.com