The parliamentary elections in Italy do not have high priority in the discussions of market participants yet, but at the same time, there can be seen an element of uncertainty regarding European assets. The most likely scenario is the lack of a clear winner and a period of protracted coalition talks, but currently Italy does not require a quick ordering of the political scene. Additionally, in the weekend in Germany, the future of the Great Coalition there may be resolved.
Elections to both chambers of the Italian parliament will take place on Sunday, 4 March. The polling stations will open at 08:00 am GMT and will remain open until 12:00 pm GMT. The first unofficial results should appear immediately after the voting is completed.
The surveys were completed on February 17 (the law prohibits the publication of results two weeks before the election) and indicate, that none of the parties will obtain a parliamentary majority. The anti-establishment Five-Star Movement (around 29%) enjoys the greatest support, although its leaders exclude coalition talks with other parties. The other major parties are center-right Forza Italia under the leadership of Silvio Berlusconi (16%) and the center-left Democratic Party headed by Matteo Renzi (22%). However, the center-right has more coalition power (36% from Lega Nord and Fratelli d'Italia and Noi con l'Italia) than the center-left (28% along with Europe, Insieme and Civic Popolare).
The analysis of party election programs shows that the common denominator of groupings is a tax reduction and an increase in fiscal expenditure to improve the situation of citizens in the economy that is still struggling with the effects of the economic crisis. Some programs include the issue of sending immigrants from North Africa and improving relations with Russia. From the market point of view, the most important topic is Euroscepticism and striving for Italy to come out from the Eurozone.Until recently the greatest threat was seen in the victory of the Five Star Movement, which called for a referendum on Itexit. However, in mid-January, the party withdrew this postulate, changing it to try to fix Europe "from the inside". A positive surprise for the markets would be for the center-right to gain a majority.
Let's now take a look at the EUR/USD technical picture at the H4 time frame. The market impact on the Italian elections might be difficult to predict, as there is a very low probability of an uncertain event. Nevertheless, we can see a price bounce from the level of 1.2165 and a test of the golden trend line around the level of 1.2289. Currently, the price is consolidating around this level as the market participants are unsure which way to choose: up or down. This situation might extend until Monday morning.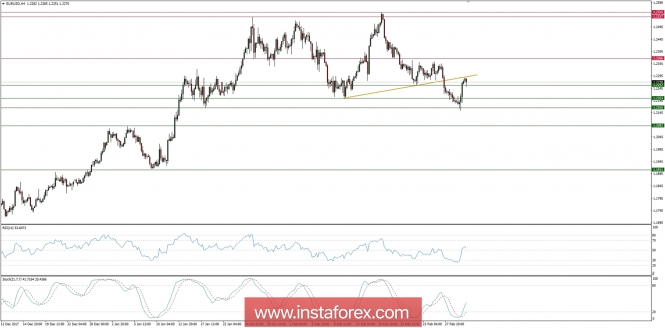 The material has been provided by InstaForex Company -
www.instaforex.com